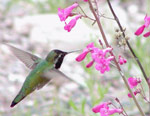 Don Dirks, NPS volunteer
While there is an opportunity to round out a birding "life list" anywhere in the monument's borders, birders have best luck in a few specific spots.
Kris Eggle Visitor Center:
Both at the picnic ramadas by the parking lot and the "Ciénega" out back are prime spots for bird watching. Birds seen very frequently over the past years include Northern Cardinals, Cactus Wrens, Curve-billed Thrashers, Black-tailed Gnatcatchers, Gila Woodpeckers, Canyon Towhees, Black-throated Sparrows, Gambel's Quail, and Phainopeplas. Expect to see some of these in each visit. Also observed there, in much lesser numbers, are Costa's Hummingbird, Sage Thrashers, Cooper's Hawks, Verdins, Pyrrhaloxia, and Varied Buntings.