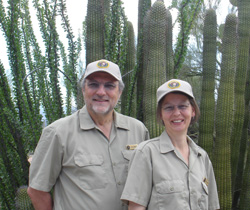 NPS Photo
Volunteers From Abroad
Organ Pipe Cactus National Monument has benefited from the knowledge, talent and generosity of Joe and Marion Lammarsch, international volunteers from Germany. They are computer science professionals, working and teaching at the University of Heidelberg, and at the Private Distance-Education University of Applied Sciences Darmstadt, Germany.
Late summer/fall 2012 was their first season at the monument and their third time volunteering in a national park. Joe and Marion translated brochures, the newspaper and web pages from English to German. Marion's depth of computer experience combined with Joe's photography skills were valuable contributions for several design projects.
They offered, in English and German, spontaneous interpretive tours of the nature trail, which especially delighted the German visitors. When asked about talking to the public, Marion said, "Working in the visitor center is really fun, we meet a lot of people from all states and different countries. Talking with them gives us new views and impressions. Many people thanked us for being volunteers and some told us, that they feel the world move closer together."
Previously, in 2009 and 2007, they each contributed more than 1200 volunteer hours to Petrified Forest National Park. In addition to working the visitor center, Marion and Joe assisted with the preparation and archiving of paleontology bones for the museum collection, and monitored (GPS, digital photographs, transcription) recently discovered petroglyphs.
In retrospect Joe said, "We learned a lot about interpretation, geology, paleontology, history, and management. And of course we extended our English vocabulary and skills." They plan to return to the United States in 2013 and have already scheduled multiple weeks of volunteer time at Organ Pipe National Monument and other national parks.