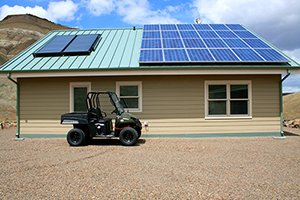 NPS/M. Rose
The Sustainable Operations and Climate Change (SOCC) Branch is part of the Park Facility Management Division of the National Park Service (NPS). We work with parks and regions to develop comprehensive and high quality programs to assist in implementing sustainable best practices in the following four areas:
Energy and Water Conservation
Climate Change Mitigation and Facility Adaptation
Sustainable Building Design and Operation
Pollution Prevention
Several
Executive
Secretarial Orders
require agencies within the Department of the Interior to increase sustainable practices and reduce their environmental footprints. The National Park Service also developed agency-specific strategies to tackle sustainability and climate change issues including our
Climate Change Action Plan
(PDF 4.75MB),
Climate Change Response Strategy
(PDF 5.02MB), and
Green Parks Plan
(PDF 3.5KB).
This website provides visitors with opportunities to learn more about our program areas, stay updated on relevant news and events, find sustainability and climate change web resources and links to other sustainability programs within and outside the NPS, and legislation that guide Servicewide sustainability activities and goals.