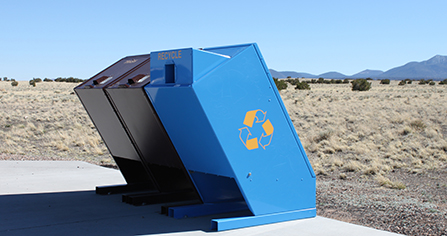 NPS/WUPA
About
The Sustainable Operations and Climate Change branch includes two main areas of emphasis regarding pollution prevention: the Pollution Prevention (P2) Program and the Waste Reduction and Management Program.
Pollution Prevent (P2) Program
The P2 Program focuses on environmental purchasing and waste reduction and management. In addition to providing technical advisory and research services to parks, the Program is instrumental in helping the National Park Service achieve the "Environmental Purchasing and Waste Reduction/Management" goals within the NPS Green Parks Plan in addition to assisting parks parks to in:
Reducing the use and storage of toxic and hazardous substances,
Developing park-specific pollution prevention plans;
Implement recycling and composting, and "green" purchasing programs.
NPS Waste Reduction and Management Program
The Waste Reduction and Management Program assists in both the prevention and management of:
Rubbish and recycles created by visitors and park staff (commonly referred to as municipal solid waste (MSW));
Hazardous waste and universal waste generated through park maintenance operations; and
Construction and demolition (C&D) waste generated from facility renovation and new construction.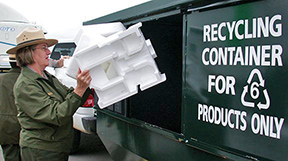 NPS/MACA
Municipal Solid Waste/Construction & Demolition Waste Management
Municipal Solid Waste (MSW) is the by-product of most human endeavors, including operations at National Park Service facilities. Since the first national parks were created, park managers have had to manage MSW generated by visitors, businesses operating in and near the park, and by park employees. Today, it is imperative that MSW be effectively managed to minimize potential environmental impacts.
Construction and Demolition (C&D) waste is a by-product of the efforts taken to maintain NPS facilities through renovation projects as well as construction of new facilities. It is NPS policy that all parks strive to meet the target goals of sustainability-related mandates, like Executive Order 13423 and 13514 as well as servicewide policies and initiatives including the NPS Climate Change Action Plan and Green Parks Plan. Goals within E.O. 13423 and 13514 include:
Diverting at least 50% of non-hazardous solid waste (MSW), excluding C&D waste, by the end of fiscal year 2015 (EO 13514);
Diverting at least 50% of C&D materials and debris by the end of fiscal year 2014 (EO 13514); and
Recycling the following commodities unless significant barriers exist: white paper, mixed paper/newspaper, cardboard, aluminium, plastic (#1 PET, #2 HDPE), glass, pallets, scrap metal, toner cartridges, and consistent with applicable hazardous waste regulations, fluorescent lamps, lamp ballasts, batteries, used oil, antifreeze and tires (EO 13423).
Environmental Purchasing
Environmental Purchasing (EP) (also known as 'green' purchasing) melds procurement and environmental ethics into a sustainable purchasing strategy. EP is the practice of specifying products and services with consideration of life-cycle environmental attributes.
The NPS strives to ensure that at least 95% of all new contracts, including non-exempt contract modifications, require products and services that are energy-efficient, water-efficient, bio-based, environmentally preferable, non-ozone depleting, contain recycled content, and are non-toxic or less-toxin in nature.
Additional EP and Waste Management Resources: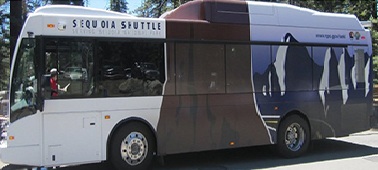 NPS/SEKI
NPS Environmental Achievement Awards

The National Park Service presents Environmental Achievement (EA) Awards to teams (park unit, groups of NPS employees, or a combination of NPS and non-NPS personnel) and partners (concessioners, contractors, and cooperating associations) who demonstrate exceptional accomplishments toward the overall goal of preservation and protection of the resources under our stewardship. Specifically, the awards recognize outstanding achievements in the implementation of EO 13523,
Strengthening Federal Environmental, Energy, and Transportation Management
and EO 13514,
Federal Leadership in Environmental, Energy, and Economic Performance
.
Award recipients include: