Three Island Crossing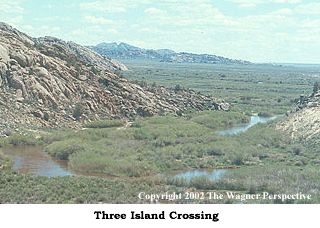 The Wagner Perspective
Three Island Crossing - Glenns Ferry, Idaho
Three Island Crossing was the most important and difficult river crossing in Idaho. Crossing the Snake River was always dangerous, but when the water was low enough to negotiate, everyone crossed who could, to take advantage of the more favorable northern route to Fort Boise. During high water, most emigrants were forced to travel along the South Alternate route into Oregon - a dry, sandy, dusty, and hot trail that wore out man and beast.
On September 11, 1843, William T. Newby ". . . crossed Snake Rive[r]. First we drove over a part of the river one hundred yards wide on to a island, the[n] over a northern branch 75 yards wide on a second island; then we tide a string of wagons together by a chane in the ring of the lead cattles yoak & made fast to the wagon of all a horse & before & him led. We carried as many a[s] fifteen wagons at one time. . . . The water was ten inches up the waggeo[n] beds in the deepe places."
Three Island Crossing State Park maintains a campground, picnic area, interpretive trails, a museum with exhibits, and other visitor services on the north bank of the river. Each year in August, the park reenacts the river crossing by driving wagons across the ford at Three Island Crossing.
Three Island Crossing State Park
P. O. Box 609
Glenns Ferry, ID 83623
208-336-2394
Did You Know?

After a long and arduous late summer climb up the Blue Mountians of eastern Oregon, wagon train emigrants headed for Oregon in the 1840s-1860s were rewarded with a walk in the cool shade of its coniferous forest. More...