Guernsey Ruts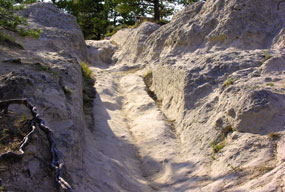 NPS Image
Guernsey Ruts (Deep Rut Hill) - Guernsey, Wyoming
At this site, where the trail was forced away from the river and crossed a ridge of soft sandstone, the track is worn to a depth of five feet, creating some of the most spectacular ruts remaining along the entire length of the Oregon-California Trail. The geography of the area dictated that practically every wagon that went west crossed the ridge in exactly the same place, with impressive results.
Located about three miles south of Guernsey.
Did You Know?

Known as the southern route of the Oregon Trail, the Applegate Trail provided an alternative for settlers who wanted to avoid the perils of the Columbia River. After nearly 150 years the Applegate Trail still serves as the basis for the Oregon's major transportation route. More...