Courthouse & Jail Rock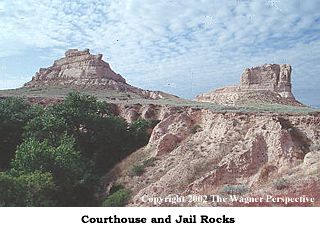 The Wagner Perspective
Courthouse Rock/Jail Rock - Bridgeport, Nebraska
Courthouse Rock was first noted by Robert Stuart in 1812 and quickly became one of the guiding landmarks for fur traders and emigrants. It is a massive monolith of Brule clay and Gering sandstone south of the trail, which was variously likened to a courthouse or a castle. A smaller feature just to the east was called the Jail House or Jail Rock. Courthouse Rock was the first of several impressive natural landmarks along the trail in western Nebraska.
In November of 1841, Rufus B. Sage recorded, "A singular natural formation, known as the Court House, or McFarlan's Castle . . . rises in an abrupt quadrilangular form, to a height of three or four hundred feet, and covers an area of two hundred yards in length by one hundred and fifty broad. Occupying a perfectly level site in an open prairie, it stands as the proud palace of Solitude, amid here boundless domains. Its position commands a view of the country for forty miles around and meets the eye of the traveler for several successive days, in journeying up the Platte."
Visit Courthouse/Jail Rock about six miles south of Bridgeport on State Route 88.
Did You Know?

Many emigrants chose to take the Barlow Road around Mt. Hood as an alternative to dissembling their wagons and running the cold rapids of the Columbia River to reach their destination in the Oregon Territory in the 1840s-1860s. More...