Fort Kearny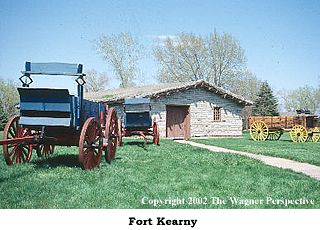 The Wagner Perspective
Fort Kearny - Kearney, Nebraska
Fort Kearny was established by the U.S. Army in 1848 to protect the growing traffic along the Oregon Trail from the threat of Indian attacks. This military post was strategically located at a junction where various eastern feeder trails merged, forming one broad trail. Those routes joined at Fort Kearny and became one broad and vast trail following the Platte River 330 miles west to Fort Laramie.
J. Goldsborough Bruff recorded his impressions on June 17, 1849, "I visited the Fort . . . . This place is as yet merely the site of an intended fort; it has some adobe embankments, quarters of adobe & frame, and a number of tents & sheds. Is on the bank of the Platte, where Grand Island makes a narrow branch of the river between it and the shore."
Although none of the original sod and adobe buildings have survived, the Nebraska Game and Parks Commission has reconstructed two of the fort buildings.
Fort Kearny State Historical Park
1020 V Road
Kearney, NE 68847
308-865-5305
Did You Know?

Many emigrants chose to take the Barlow Road around Mt. Hood as an alternative to dissembling their wagons and running the cold rapids of the Columbia River to reach their destination in the Oregon Territory in the 1840s-1860s. More...