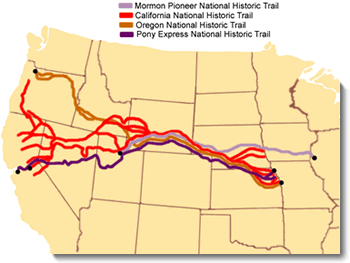 NPS Image
In 1968, Congress enacted the National Trails System Act and in 1978, National Historic Trail designations were added. The National Historic Trails System commemorates these historic routes and promotes their preservation, interpretation and appreciation.
National Historic Trails recognize diverse facets of history such as prominent past routes of exploration, migration, trade, communication and military action. The historic trails generally consist of remnant sites and trail segments, and thus are not necessarily contiguous. Although National Historic Trails are administered by federal agencies, land ownership may be in public or private hands. Of the 11 National Historic Trails, nine are administered by the National Park Service, one by the USDA Forest Service and one by the Bureau of Land Management.
Click here to learn more about the , including National Historic and National Recreation Trails.
Cartographers, from the National Park Service Interpretive Design Center, have created a map of the entire system of national historic and scenic trails. You are welcome to view or download a PDF version of the .