Road Work, Expect Delays

ODOT will be preparing highway 46 for asphalt patching. Please use caution when traveling between the monument and Grayback Campground. Various work will be from continue until July 31, 2014.
Watch for Wildlife

Please be on the lookout for fawns on the section of Caves Highway around Caves Campground! There is at least one very young one that is using the pavement as his transportation corridor.
What to Bring for the Tour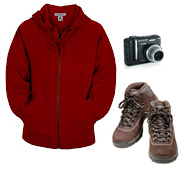 Warm clothing. The cave is 44 degrees Fahrenheit (7 degrees Celsius) year round, the temperature of your refrigerator!
Good walking shoes. Please do not wear open-toed shoes, flip-flops or sandals without a supportive strap because the trail surface is uneven, slippery, and wet.
Optional: camera. Cameras must be on a strap or be able to slip easily into a pocket. Avoid cameras that are carried loose because they can easily be dropped in the cave. Taking pictures with flash is allowed in most areas of the cave but your Ranger will ask you not to take photographs in areas where bats are known to roost. Taking pictures of sleeping bats can disturb them and possibly cause serious harm to them.
Go to Cave Tours page
Did You Know?

Computer bugs, slang for something gone wrong in a program, are actually named for a real insect. In 1947, technicians working for computer scientist Grace Hopper found a moth inside her computer. The trapped moth was making the machine malfunction. Once removed, they reported that the computer was "debugged". They taped it onto her notes with a little joke that is now part of our everyday language.