Cave Creek Campground Closed

Cave Creek campground located at Mile Marker 16 is currently closed due to hazard trees.
What to Bring for the Tour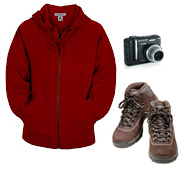 Warm clothing. The cave is 44 degrees Fahrenheit (7 degrees Celsius) year round, the temperature of your refrigerator!
Good walking shoes. Please do not wear open-toed shoes, flip-flops or sandals without a supportive strap because the trail surface is uneven, slippery, and wet.
Optional: camera. Cameras must be on a strap or be able to slip easily into a pocket. Avoid cameras that are carried loose because they can easily be dropped in the cave. Taking pictures with flash is allowed in most areas of the cave but your Ranger will ask you not to take photographs in areas where bats are known to roost. Taking pictures of sleeping bats can disturb them and possibly cause serious harm to them.
Go to Cave Tours page
Did You Know?

The mountains surrounding Oregon Caves are composed of ocean crust including rocks uplifted directly from the mantle. These mantle rocks make up one of the largest serpentine rock outcrops in the nation.