Haunted Candlelight Tours

Haunted Candlelight Tours Offered Sunday, October 26 through Friday, October 31, 2014. The tour begins at 4pm and are first come first serve. The tour is limited to 12 people per group. Last regular cave tour will be at 3pm.
Tourist Attractions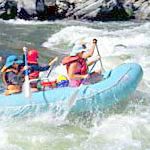 roguerivertrips.info
There are a variety of tourist attractions which include: boat rides on the Rogue River, The "Oregon Vortex", the nationally recognized, Shakespeare Festival in Ashland, Britt Music Festival, Jacksonville Historic Site, Wildlife Safari Animal Park as well as history and art museums.
Wineries
There are two wineries near Oregon Caves, Bridgeview Winery and Foris Winery, as well as several others in the Rogue Valley near Grants Pass.
Berries, Fruits, and Vegetables
This region is often referred to as the berry capital of Oregon with blackberries, raspberries, and huckleberries at the top of the list. Several fruit stands and farmers markets with locally grown produce can be found in the Caves Junction area throughout most of the summer. Tomatoes, corn, and potatoes are among the most common vegetables sold. Apples, pears, and cherries are the common fruit. The region is also gaining a reputation for growing grapes.
During the summer and fall, the city of Grants Pass has a Grower's Market with many local farmers selling organic produce and hand-crafted items.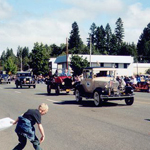 cavejunction.com
Local Events
Every second Friday of the month in the summer is Art Walk in Cave Junction and every first Friday is Art Walk in Grants Pass.
The valley hosts many local events during the summer.
June: Iron Horse, Shining Stars
July: Bluegrass Festival
August: Blackberry Festival
September: Labor Day Parade
Did You Know?

The most complete jaguar fossil in the United States was discovered inside Oregon Caves in 1995 by crews who were working on a map of the cave.