Cave Tours Closed for Season

Cave Tours are closed for the winter. Tours will resume April 26, 2014. All trails on the monument remain open.
Road Work

Crews are removing brush along highway 46 beginning in the lower parking lot and moving down the highway. Work is scheduled to last until April 20, 2014; expect delays.
Off-Trail Caving Tours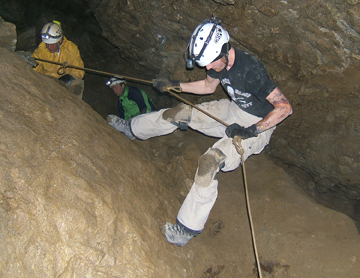 An Introduction to Caving

Experience the wondrous, wild areas of Oregon Caves National Monument off trail! Trained guides will teach you caving techniques, cave etiquette, and bring you face-to-face with the marble structure of Oregon Caves. This three-hour experience through tight squeezes and crawls will challenge and exhilarate you!
Please check back in May 2014 for more information on the Off-Trail tour schedule. If you have emailed a tour request please note that you will be contacted in the Spring 2014.

Fees
The cost is $30 per person. You must reserve a tour in advance and space is limited to 8 per tour. To begin the reservation process please e-mail the Off-Trail Coordinator with the following information:
1. Your name and phone number
2. Number of participants
3. Specific dates (Wednesday, Friday, Saturday, Sunday only) you are interested in this tour.


You will then be contacted via e-mail to schedule your tour.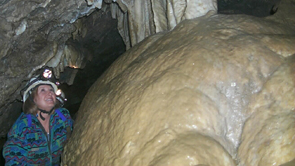 About the Off-Trail Experience

This is a very strenuous, adventurous experience. Scramble boulders, belly crawl, negotiate uneven rock piles, and squeeze yourself through confined cave passages as small as 11 inches by 19 inches. The only source of light is your caving headlamp!
Help Protect Our Bats!

White-nose syndrome is devastating bat populations in eastern North America. To avoid spreading this fungus to Oregon Caves, do not bring clothes, boots, or equipment used in a cave or mine east of the Rocky Mountains in the US or Canada or a cave or mine in Europe. Even if the item has been washed, there is still a risk. Do not bring it.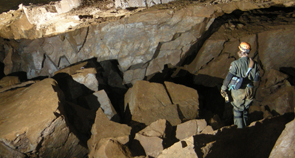 We Provide

Helmet, headlamp, gloves, kneepads, elbow pads, coveralls, and a souvenir bandana will be provided. To protect our bats, no outside cave gear is permitted.
Mobility Limitations

This is an intense tour both physically and mentally. You will be climbing and descending over uneven surfaces that require upper body strength and good balance. This tour is not recommended for persons with a history of heart, respiratory, back, shoulder or knee problems, joint complaints, vision difficulties, if you are prone to panic attacks or claustrophobia, or if you are pregnant. All participants must be at least 5 feet tall.

Minimum Age

Participants must be at least 15 years of age and at at least 5 feet in height. Youth ages 15 - 17 need a signed waiver to attend the tour.

Preview the Off-Trail Adventure
Preview the Introduction to Caving tour with a short video (15 MB, quicktime; this may take a long time to load so please be patient) by Brent McGregor of the Oregon High Desert Grotto.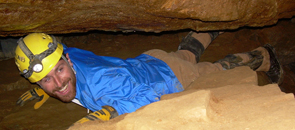 Want to do more caving?

Research the caves in your area - many offer "spelunker" tours.

Join a grotto! Grottos are local caving clubs, and they are registered through the National Speleological Society (NSS). Grottos organize caving trips for their members. Go to the NSS web site at www.caves.org for more information.
Preview the safety hazards of the off-trail route. This short video shows the uneven terrain of the off-trail tour.

Duration:

1 minute, 55 seconds

Credit / Author:

Yuchao Wang

Date created:

2012-11-02
Did You Know?

The mountains surrounding Oregon Caves are composed of ocean crust including rocks uplifted directly from the mantle. These mantle rocks make up one of the largest serpentine rock outcrops in the nation.