Bienvenida! Accueil! Empfang!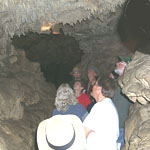 NPS
We offer translations of basic tour information in other languages. See links above for more information.
If you or your family predominantly speaks another language, please the monument if you know when you will visit. There is a possibility that someone on staff may speak the language.
Did You Know?

Up until 1922 the only way to get to Oregon Caves was on a 12 mile trail from the town of Williams, Oregon. Once at Oregon Caves visitors explored the cave and spent the night at a camp outside the entrance to the cave.