Cave Creek Campground Closed

Cave Creek campground located at Mile Marker 16 is currently closed due to hazard trees.
Cliff Nature Trail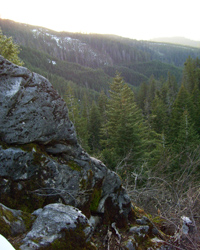 Cliff Nature Trail Map, 88 KB pdf file
Distance (from the cave exit): 0.7 mile (1.1 km)
Duration: allow 30 minutes to 1 hour
Elevation Gain: 75 feet (23 m) from cave exit
Trailhead: cave trail exit

Distance (from the cave entrance): 1.0 mile (1.6 km)
Duration: allow 45 minutes to 1 hour
Elevation Gain: 300 feet (90 m) from the Chateau
Trailhead: follow the pave path past the cave entrance

Description: This is the most popular trail at the Monument passing over marble rock outcrops, through Douglas fir / Grand fir forest, and offering spectacular panoramas. The trail climbs up over part of the mountain the cave is located in. You will be rewarded in the middle of the hike with a great vista point where most of the monument valley can be seen. There are also interpretive panels along the trail to provide information about the surroundings.
If you do not have the software to view this file, download it.
Did You Know?

A rough-skinned newt has tetrodotoxin, one of the world's strongest poisons. A threatened newt exposes its bright red-orange belly, a stop sign that says "eat me and you will be sorry!"