Road Work, Expect Delays

ODOT will be preparing highway 46 for asphalt patching. Please use caution when traveling between the monument and Grayback Campground. Various work will be from continue until July 31, 2014.
Watch for Wildlife

Please be on the lookout for fawns on the section of Caves Highway around Caves Campground! There is at least one very young one that is using the pavement as his transportation corridor.
Cliff Nature Trail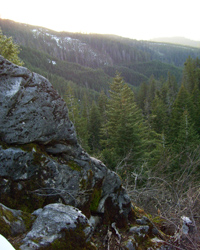 Cliff Nature Trail Map, 88 KB pdf file
Distance (from the cave exit): 0.7 mile (1.1 km)
Duration: allow 30 minutes to 1 hour
Elevation Gain: 75 feet (23 m) from cave exit
Trailhead: cave trail exit

Distance (from the cave entrance): 1.0 mile (1.6 km)
Duration: allow 45 minutes to 1 hour
Elevation Gain: 300 feet (90 m) from the Chateau
Trailhead: follow the pave path past the cave entrance

Description: This is the most popular trail at the Monument passing over marble rock outcrops, through Douglas fir / Grand fir forest, and offering spectacular panoramas. The trail climbs up over part of the mountain the cave is located in. You will be rewarded in the middle of the hike with a great vista point where most of the monument valley can be seen. There are also interpretive panels along the trail to provide information about the surroundings.
If you do not have the software to view this file, download it.
Did You Know?

The mountains surrounding Oregon Caves are composed of ocean crust including rocks uplifted directly from the mantle. These mantle rocks make up one of the largest serpentine rock outcrops in the nation.