Haunted Candlelight Tours

Haunted Candlelight Tours Offered Sunday, October 26 through Friday, October 31, 2014. The tour begins at 4pm and are first come first serve. The tour is limited to 12 people per group.
Chateau Tours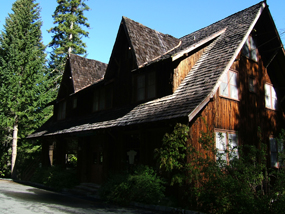 NPS
Take a Guided Tour of the Historic Lodge During the Summer Months

Join a Park Ranger for a behind-the-scenes tour of the Chateau at Oregon Caves National Monument. This rustic hotel in the Siskiyou Mountains is one of the National Park's Great Lodges and a National Historic Landmark.
Designed by self-taught architect Gust Lium, the Chateau was completed in 1934 using local materials, including the Port Orford Cedar bark which covers the structure. The rustic design complementing the mountain landscape set a precedent in park architecture. The Chateau's Monterrey furniture is also unique. Constructed by the Mason Manufacturing Company of Los Angeles, each piece was hand made, primarily from Oregon alder wood.
How Long is the Tour and How Much Does it Cost?
About 45 minutes; no cost
The ranger –guided tour lasts approximately 45 minutes, covering history, architecture, and stories of the Chateau. Tour routes may include the lobby, a fine dining room, a 1930s-era coffee shop, and a show room. Hear the story of the 17-foot wave of floodwater and debris that swept the Chateau off its foundation in 1964, and how 84-year-old Gust Lium returned to oversee its reconstruction. See the place where the postcard and the View Master were invented. Ponder the changes that may be in store for this rustic masterpiece.
Experience the Chateau's peace and beauty for yourself. The tour is free; check the schedule board in the Visitor Center for times.
Why wait?

You can learn more about the Chateau now!
Did You Know?

One of the largest cave restoration projects in the nation occurred at Oregon Caves during the 1980s and 1990s. Furthermore, most of the work was done by volunteers! Volunteers still make an important contribution to the park. Learn more about current volunteer opportunities at Oregon Caves. More...