Cave Tours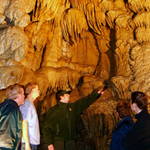 NPS
"Never attempt to go through the caves without a competent guide as there are a thousand places in which to get lost," Vic Smith, a guard appointed to the Caves, 1911."
Take a tour through a marble cave. Learn and discover how the geology, fossils, cave life, bats, watershed, old-growth forest, and human history make Oregon Caves significant.
Off-Trail Cave Tours - summers only
Enjoy an "Introduction to Caving." Caving is a sport for those who enjoy physical and mental challenges in their quest to see new things and experience new places. Get off the beaten path and learn about caving techniques, etiquette, and conservation.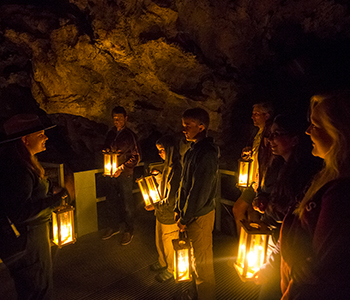 NPS
Candlelight Cave Tours - summers only
During Fridays and Saturdays at 6:30 pm in the summer, ages 12 and over, the last tour of the day is conducted by candle light. This gives visitors a chance to see what early explorers of the cave might have seen as they went from room to room with a candle.
Haunted Candlelight Tours- October only
Looking for a Halloween haunt? You'll get goose-bumps on the Haunted Candlelight tour as you hear spooky stories of local history; walk amongst the bats and spiders, and discover the lesser known tales of these dark caverns.