Haunted Candlelight Tours

Haunted Candlelight Tours Offered Sunday, October 26 through Friday, October 31, 2014. The tour begins at 4pm and are first come first serve. The tour is limited to 12 people per group. Last regular cave tour will be at 3pm.
Cave Tour Precautions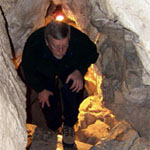 NPS
The cave tour lasts 90 minutes, is considered moderately strenuous, and is not recommended for people with heart, breathing, or walking problems. The half mile (1 km) route includes more than 500 stairs (most of which are steep and uneven) and a total climb of 230 feet (70 m). The lowest passageway you will have to duck under is about 45 inches (about 1 m) tall.
Visitors have the option to leave the cave 45 minutes into the tour.
The first room of the cave is accessible to visitors using wheelchairs. Canes or walking devices must have stem diameters greater than one inch. For more information, please visit Accessibility.
Go to Cave Tours page
Did You Know?

One of the most spectacular vistas near Oregon Caves is located on Mount Elijah. The hike is strenuous if you start at the monument but the staff at the Visitor Center can direct you to another, less strenuous trail to the mountain.