Cave Creek Campground Closed

Cave Creek campground located at Mile Marker 16 is currently closed due to hazard trees.
Cave Tour Precautions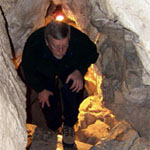 NPS
The cave tour lasts 90 minutes, is considered moderately strenuous, and is not recommended for people with heart, breathing, or walking problems. The half mile (1 km) route includes more than 500 stairs (most of which are steep and uneven) and a total climb of 230 feet (70 m). The lowest passageway you will have to duck under is about 45 inches (about 1 m) tall.
Visitors have the option to leave the cave 45 minutes into the tour.
The first room of the cave is accessible to visitors using wheelchairs. Canes or walking devices must have stem diameters greater than one inch. For more information, please visit Accessibility.
Go to Cave Tours page
Did You Know?

Scorpions fluoresce or glow under ultraviolet (UV) black light. They can glow electric green or blue. Scorpions fluoresce because they contain a fluorescent protein in the upper layer of their exoskeleton. This layer is like your fingernail, but even more protective and tough. The special protein inside is thought by scientists to serve as an ultraviolet sensitivity mechanism, perhaps allowing the scorpion to avoid burning itself by staying exposed too long to damaging light levels.