Cave Tours Closed for Season

Cave Tours are closed for the winter. Tours will resume April 26, 2014. All trails on the monument remain open.
Cave Tour Precautions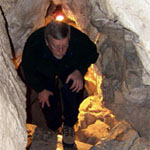 NPS
The cave tour lasts 90 minutes, is considered moderately strenuous, and is not recommended for people with heart, breathing, or walking problems. The half mile (1 km) route includes more than 500 stairs (most of which are steep and uneven) and a total climb of 230 feet (70 m). The lowest passageway you will have to duck under is about 45 inches (about 1 m) tall.
Visitors have the option to leave the cave 45 minutes into the tour.
The first room of the cave is accessible to visitors using wheelchairs. Canes or walking devices must have stem diameters greater than one inch. For more information, please visit Accessibility.
Go to Cave Tours page
Did You Know?

The furniture in the historic Oregon Caves Lodge was custom made by the Mason Manufacturing Company. The furniture has hand painted designs and often used iron strapping, and leather in its construction. The furniture was branded with a small horse shoe design, the icon of the company. More...