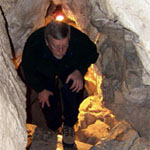 NPS
The cave tour lasts 90 minutes, is considered moderately strenuous, and is not recommended for people with heart, breathing, or walking problems. The half mile (1 km) route includes more than 500 stairs (most of which are steep and uneven) and a total climb of 230 feet (70 m). The lowest passageway you will have to duck under is about 45 inches (about 1 m) tall.
Visitors have the option to leave the cave 45 minutes into the tour.
The first room of the cave is accessible to visitors using wheelchairs. Canes or walking devices must have stem diameters greater than one inch. For more information, please visit Accessibility.
Go to Cave Tours page