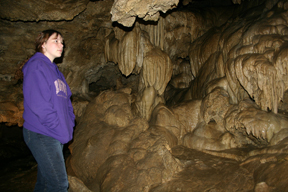 Be Aware That:
Tours are considered moderately strenuous and children must be over 42 inches (107 cm) in height.

Visitors can only enter the cave on a scheduled tour. No self guided tours are available and cave tour tickets are sold only on the Monument and are on a first-come, first-served basis. See Operating Hours & Seasons for more information on tour schedules.
Tours last 90 minutes. Expect at least 15 minutes for the walk back to your car. Wait times can reach up to two hours during the summer season (Memorial Day through Labor Day). The busiest times are between 11:00 am and 3:00 pm. Earlier or later arrival is recommended.