Amphibians appreciate the cool, wet shelter of caves and are sometimes seen along the tour route of the Oregon Caves. Such creatures are vertebrates (having a bony skeleton) that spend part of their lives in water and the remainder on land. Often as younglings they have an intimate link to water but as adults they may be found hiding under logs or resting near a hiking trail.
Amphibians are cold-blooded meaning their body temperature depends on the temperature of their environment. Two common orders are the newts and salamanders or the frog and toad groups.
On the Monument you may see or hear the Pacific Tree Frog. It is one of the smallest but loudest amphibians here. It can change color from green to brown in a few minutes for the protection of camouflage. Here is an adult and a teenager example.

NPS
The beautiful Pacific Giant Salamander is called a trogloxene, meaning it uses the cave during different life stages, but never spends its complete life underground. You might get lucky and see one along our tour route in the summer. The biggest recorded Pacific Giant was over 14 inches long.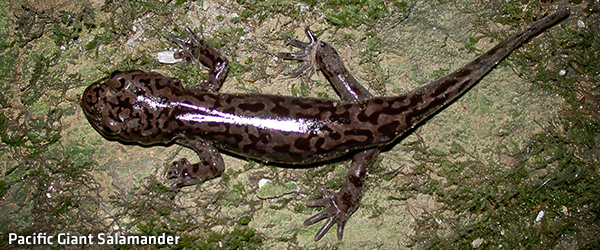 NPS
What if someone poked their finger into your lung? Ouch! Some salamanders are 'lungless' because they breathe oxygen through their skin. Avoid touching salamanders that you find, poking them with sticks or handling them. This helps keep them safe.