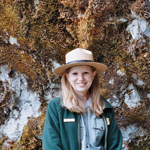 NPS
Lindsey Brown
Lindsey was born and raised in southern Minnesota, receiving her B.S. in Geography from Minnesota State University, Mankato. She is in her second season at Oregon Caves National Monument. Lindsey began her NPS career at Carlsbad Caverns National Park, New Mexico, where she fell in love with caving. When not working at the Monument, she enjoys swimming with her two dogs in the streams of southwest Oregon, and hiking to find waterfalls. Her goal is for visitors to understand and appreciate their world all around them!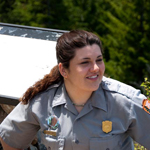 NPS
Heather Hintz
Ranger Heather is in her second season here at the caves. A native Oregonian, she knows the area like the back of her hand. She received her B.S. in Earth Science from Western Oregon University in 2009. The first time she came through the Oregon Caves she was a little girl of big dreams and grand adventures. She fell in love and knew one day she would return, and she has. She is an avid SCUBA diver, hiker, camper and anything else one can do outside. She also enjoys writing about nature and photographing the greens and purples that only happen in nature. The greatest joy in working at the Oregon caves is being able to share the caves with everyone.

"Nothing is more beautiful than the loveliness of the woods before sunrise," George Washington Carver.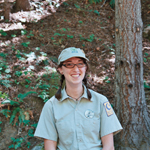 NPS
Marie "Moose" Landis
There once was an intern named Marie
She hailed from East Tennessee
She came to the caves
To learn and to play
And strum on her ukulele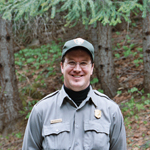 NPS
Matthew Klozik
"What is that under that log and why does it live there?" These were the driving questions behind my wanting to be a park ranger. Exploring in the woods near my house in Fraser, Michigan gave me an insight into the wonders that are found in nature, no matter where you go. Following the path of National Park Service employment has lead me to a wonderful place, both above and below ground, that seems to always have some adventure awaiting to be taken.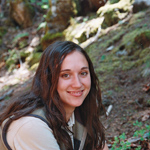 NPS
Jamie Mansfield
I was born and raised where the mouth of the Columbia River meets the great Pacific. Growing up in the beautiful, rainy, and green northwest has been a treat and helped to ignite my love for the outdoors. I came to the Oregon Caves for the first time as a 9 year old who loved going underground, quizzing the ranger, and staying up late playing board games in the Chateau. Later on I went to University of Oregon where I graduated in 2009 with a degree in Cultural Anthropology and a love for travel, exotic foods, new friends, and other cultures. Returning to the caves for my first season as an Education Intern has been an awesome experience! I get to work with students to help foster a passion for caves, geology, and to encourage them to explore their own backyard. Showing visitors the marble wonders and getting them to laugh from a cheesy cave joke or two is the best!!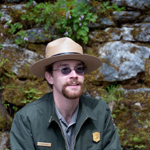 NPS
Derek Neis
For 15 years I've waited to wear the flat hat and green uniform. Finally in 2009 I was able to officially wear the uniform and become a National Park Ranger as a cave guide here at Oregon Caves National Monument. I've been here since 2008 and continue to come back to this Monument due to the love I feel for the cave and surrounding environment and the people whom I work with throughout the summer. As a recent graduate of California State University Sacramento I can teach and encourage people of all ages and backgrounds in the human and natural history of our great nation and protect the most important thing of our culture, our History, the story of who we are as a people and what we have preserved in the National Parks.
NPS
Annika Taylor
Annika was born and raised in Boulder, CO where she developed a love for the outdoors early in life while backpacking, hiking and fly-fishing with her family in the Rocky Mountains. Despite being a mountain kid at heart, she moved to Indiana to pursue a Bachelor's degree in Geoscience from Earlham College. She then packed up and moved to Alaska for a year where she worked as an Environmental Educator for the Department of Fish and Wildlife in south-central Alaska. After living in such a remote setting for a year (and loving every minute of it), Annika decided to try city-life while getting a Master's degree in Geochemistry from the University of Illinois at Chicago. Field work for her master's sent Annika to Antarctica for two months, where she lived in a tent while sampling lake water chemistry and collecting ice cores. After finishing her master's, Annika decided to get back into environmental education, which led her to Oregon Caves National Monument. Here Annika spends her time working with students both in their classrooms and when they come up to the Monument to explore all that it has to offer.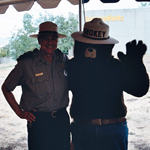 NPS
Dave Thompson
The 'ole gypsy is still here...seven years now.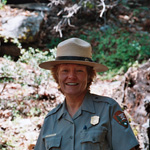 NPS
Mary Schubert
Hi! I'm Ranger Mary. I started cave crawling in Missouri about 15 years ago and fell in love (with caves). It seemed a natural progression to study hydrogeology, since groundwater flows through caves. From there, my goal was to work within the National Park system – sharing my love of caves with the people who come to the parks to see caves.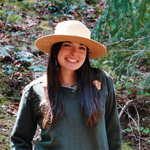 NPS
Terah Van Dusen
Ranger Terah is ecstatic to be providing cave tours during her third season at Oregon Caves National Monument. A native of the State of Jefferson, this 24 year-old knows that she could spend her entire lifetime exploring the Siskiyou-mountains and learning about the diverse geology inside the Oregon Caves. Whether that will happen or not, only time will tell, but for now she is content to sharing this special place with you and when she's not conducting Ranger-led tours and activities you will find her writing poems about the awesome nature to be found here in her very own home region. Furthermore, Terah is an aspiring author currently writing a memoir which reveals a rustic tale of a childhood spent in a hand-built cabin located in a remote part of Northern California.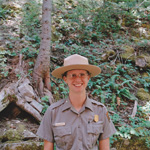 NPS
Jennifer Walgrave

Returning for a second season, I fell in love with these caves back in 2008. The serene views are a perfect change of pace from the busy college life I am about to complete. After graduating in December of 2010 from Oregon State University I only have vague ideas of what I am going to do, but what I do know that the inspiration and knowledge gathered here from the scenery and people is going to leave a more lasting impression than any of my classes ever will.