Olympic Hot Springs Road Closed

The Elwha Valley's Olympic Hot Springs Road is closed to public entry beyond the Altair Campground during removal of the Glines Canyon Dam. Olympic Hot Springs is not accessible from the Elwha.
Changes in Winter Activity Schedule Announced

Budget uncertainties lead to changes in visitor services this winter. More »
Winter Activities at Hurricane Ridge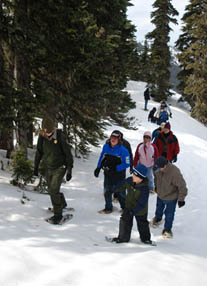 NPS
Guided Snowshoe Walks
Ranger-led snowshoe walks for individuals and families will be offered at 2:00 p.m. Saturdays, Sundays and Monday holidays from December 15 through March 31, 2012.
Walks last 90 minutes and are less than one mile in length. Walks are first-come, first-served. Space is limited, so people should sign up at the Hurricane Ridge Visitor Center information desk 30 minutes before the scheduled walk.
A suggested $5 donation from each participant helps the park continue the program and maintain snowshoes.
Organized groups such as youth or school groups must make advance reservations for snowshoe walks. Group walks are scheduled Saturdays, Sundays and Monday holidays at 10:30 a.m. for groups holding reservations. Group leaders must call Olympic National Park at 360-565-3136 for reservations or more information.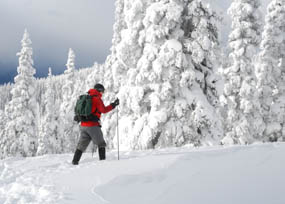 NPS
Cross-country Skiing and Snowshoeing
Opportunities for cross-country skiers and snowshoe walkers range from open, level meadows near the Hurricane Ridge Visitor Center to extreme terrain in the park's wilderness backcountry.

Anyone skiing or snowshoeing beyond the immediate Hurricane Ridge area should sign-in at the registration box in the Visitor Center and be prepared for steep terrain and the possibility of avalanches. Hurricane Ridge is subject to extreme winter conditions, so planning and preparation are vitally important.


Information about ski and snowshoe routes and trails is available at park visitor centers, the Olympic National Park website or the park's visitor newspaper, the Bugler.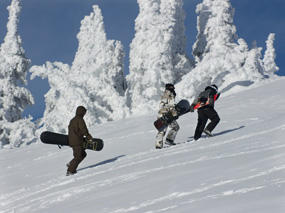 JOHN GUSSMAN
Downhill Ski and Snowboard Area
Weather permitting, the downhill ski and snowboard area operates from 10 a.m. to 4 p.m. on Saturdays and Sundays from December 11 through March 27 (closed Christmas Day.) The ski tows will also be open on the following Mondays: December 27, January 17, (Martin Luther King, Jr. Day) and February 21 (Washington's Birthday.) More information about the Hurricane Ridge downhill ski and snowboard area is available at www.hurricaneridge.com.
Sledding for Children 8 Years and Younger
Sledding is a favorite pastime for some visitors, but it is also one of the most dangerous activities at Hurricane Ridge. Serious injuries, including permanent disabilities, have occurred from collisions with trees or other sledders. Some sledders have lost control and ended up on the road. For your safety, sledding is permitted only in the Small Children's Snowplay area near the Hurricane Ridge Visitor Center. Children 8 years and younger may slide.
If conditions are too icy to allow safe sliding at the Small Children's Snowplay area, that area will be closed. For the safety of all sledders, wooden toboggans and sleds with metal or hard plastic runners are not permitted.
The Sunrise Snowplay area was closed in 2009 due to hazards associated with the site, including:
The Sunrise area's proximity to Hurricane Ridge Road, which led to both adult and child sledders actually sliding onto the road.
Limited parking, which has resulted in both vehicles and pedestrians using the road's travel lanes for parking and walking. This creates extremely hazardous conditions during icy and snowy winter months.
Plowing and sanding operations were impacted by people and vehicles using this section of the road.
Overnight Wilderness Camping
Overnight wilderness camping is permitted in the Hurricane Ridge area with advance registration. Winter camps must be at least one-half mile from the Hurricane Ridge parking area. Overnight parking is not permitted at Hurricane Ridge; parking and shuttle options are explained at the time of registration. More information is available by calling the park's Wilderness Information Center at 360-565-3100 or the Olympic National Park Visitor Center at 360-565-3130.
Did You Know?

That the Piper's bellflower is unique to the Olympic Mountains? Named after an early Olympic peninsula botanist, the Piper's bellflower grows in cracks and crevices of high elevation rock outcrops.