Olympic Hot Springs Road Closed

The Elwha Valley's Olympic Hot Springs Road is closed to public entry beyond the Altair Campground during removal of the Glines Canyon Dam. Olympic Hot Springs is not accessible from the Elwha.
Elwha River Closures

Boating is prohibited on the Elwha River from Upper Lake Mills Trail downstream to the Highway 112 bridge, except for the stretch between Altair Campground and the Highway 101 bridge.
Changes to Visitor Services Due to Sequestration

Due to mandatory, across the board budget cuts, some visitor services at Olympic National Park have changed. See the Plan Your Visit section for more information.
Things To Know Before You Come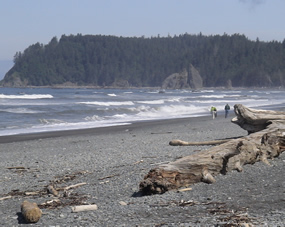 John Woods
Plan ahead for your safety and enjoyment!
See links on left for more information


Did You Know?

That Mount Olympus receives over 200 inches of precipitation each year and most of that falls as snow? At 7,980 feet, Mount Olympus is the highest peak in Olympic National Park and has the third largest glacial system in the contiguous U.S.