Enchanted Valley Temporarily Closed to Camping September 1-14

To protect contractor and visitor safety, Enchanted Valley will be temporarily closed to all public camping during the relocation of Enchanted Valley Chalet. Hikers and stock users may continue to travel through the valley, must be escorted by park staff. More »
Spruce Railroad Trail Improvements to Begin August 5

Spruce Railroad Trail will be closed from the Lyre River TH to approximately 0.25 miles east of Devil's Punchbowl. Work is expected to be completed by the end of October. The remainder of the trail will be accessible from the Camp David Jr. Road TH. More »
Safety Advisory: Mountain Goats

NPS has received reports of aggressive mountain goats near trails at Hurricane Ridge, Royal Basin, Seven Lakes Basin, Lake of the Angeles, & Grand Pass. Visitors are required to maintain a distance of at least 50 yards from all wildlife. More »
Park Destinations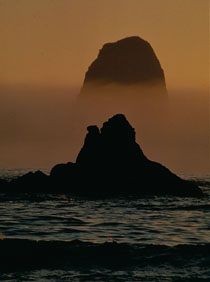 Diversity is the hallmark of Olympic National Park. From the lush canopy of the rain forests, to the sandy beaches of the coast, to the majestic overlooks of the rugged, glacier-capped mountains, Olympic National Park has a great deal to offer.
The following list of destinations may help you decide where to start your travels through Olympic National Park. Here you can find important information regarding the nature of the area, how to get there, recreational opportunities, and where to go from there!
Did You Know?
The Belted Kingfisher will hover in place directly over a river, lake, or pond, watching for fish before diving to catch them.