Olympic Hot Springs Road Closed

The Elwha Valley's Olympic Hot Springs Road is closed to public entry beyond the Altair Campground during removal of the Glines Canyon Dam. Olympic Hot Springs is not accessible from the Elwha.
Park Destinations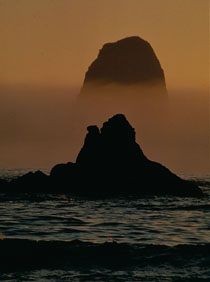 Diversity is the hallmark of Olympic National Park. From the lush canopy of the rain forests, to the sandy beaches of the coast, to the majestic overlooks of the rugged, glacier-capped mountains, Olympic National Park has a great deal to offer.
The following list of destinations may help you decide where to start your travels through Olympic National Park. Here you can find important information regarding the nature of the area, how to get there, recreational opportunities, and where to go from there!
Did You Know?

Did you know that in 1988, Congress designated 95% of Olympic National Park as Wilderness. The Olympic Wilderness is a part of the National Wilderness Preservation System. More...