Park Newsletter October 3, 2008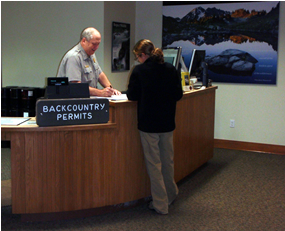 NPS Photo by Bryan Bell
"One-Stop Shopping" at the Olympic National Park Visitor Center
Aimed at increasing efficiency and reducing costs, the Wilderness Information Center (WIC) recently moved into the Olympic National Park Visitor Center.
Thanks to the park's buildings and utilities staff, the visitor center was extensively remodeled and renovated in order to accommodate the WIC information desk and provide office space for the WIC staff.
With the WIC now housed in the visitor center, the former WIC trailer can be removed and the area revegetated. And visitors can find answers to both wilderness and "front country" questions under the same roof.
Henry Meyer
NPS Mourns Slain USFS Officer
National Park Service employees and retirees from around the country, including dozens of Olympic National Park employees, were among the 3,000-plus mourners at last Monday's memorial service for fallen U.S. Forest Service Law Enforcement Officer Kris Fairbanks.
During the 90-minute service, Fairbanks was remembered as a dedicated and enthusiastic peace officer, with a quirky sense of humor and undying love for the resources she protected. Friends and her former pastor spoke of her devotion to family, particularly her 15-year old daughter Whitney, and to her community.
Prior to beginning her 22-year career with the U.S. Forest Service, Fairbanks was a seasonal park ranger at Olympic and Mount Rainier National Parks, and at Big Thicket National Preserve.
Fairbanks was killed on September 20 while on duty in the Olympic National Forest south of Sequim, Washington. More.
Razor Clam Public Meeting
Biologists will discuss the population of Kalaloch razor clams at a public meeting next week in Forks. The meeting will be held from 7:00 - 8:30 p.m. on Thursday, October 9 at the Forks library.