Park Newsletter for June 15, 2007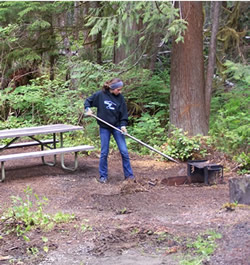 NPS Photo by Tara Daniel
Volunteer Groups Lend a Hand at Olympic
Campground clean-up, trail maintenance and invasive plant removal are several of the recent projects worked on by volunteer groups in the park.
Students from the International Community School in Kirkland spent this week in the park, combining volunteerism with outdoor education. The 25 students, ranging from seventh through twelfth grade, spent two days raking, clearing debris and helping to replace broken picnic tables at the Heart O'the Hills campground. Thanks to their efforts, the campground is ready to open one week earlier than expected!
Heart O'the Hills campground was seriously damaged by high winds and falling trees during last winter's infamous December 15 windstorm.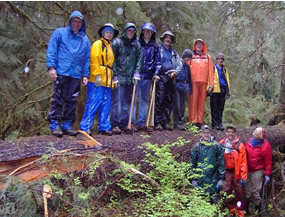 Kitsap Mountaineers
Members of the Kitsap Mountaineers spent a rainy weekend in May helping to clear the Sol Duc and Lover's Lane trails. While the park's trail crew used chainsaws to cut through large logs, the Mountaineers followed behind clearing debris.
Thanks to the hard work of park volunteers and staff, Olympic is ready for the summer season.
Jack Galloway Recognized
Park Landscape Architect Jack Galloway was recognized this week for his 30 years of federal service.
In his 17 years at Olympic, Jack has spearheaded many efforts to improve accessibility around the park, including the design or redesign of several front country accessible trails. He has also been project manager for many large road projects, including the recent reopening of the Hoh Road and the upcoming Hurricane Ridge Road repaving project. Prior to coming to Olympic, Jack worked at the National Park Service's (NPS) Denver Service Center and in the NPS Southwest Regional Office in Santa Fe, New Mexico.
Jack is currently serving as Acting Chief of Maintenance. Alan Sumeriski, the park's previous maintenance chief, was recently promoted to Chief of Maintenance at Great Smoky Mountains National Park in Tennessee and North Carolina. Jack will serve as Acting Chief until a new chief is named and hired.
Things to Do
Interested in helping restore the Elwha ecosystem?
In partnership with the park, the National Parks Conservation Association is hosting a volunteer restoration event on Saturday, June 23.
Anyone interested is invited to join a work party to remove invasive non-native plants, which will be followed by a short hike to explore the valley. Three similar events are scheduled throughout the rest of the summer.
Learn more about NPCA's June 23 work party.