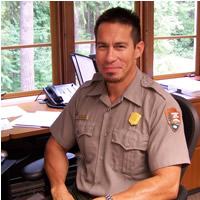 Nancy Hendricks
Park Welcomes New Maintenance Chief
Reed Robinson, the park's new Chief of Maintenance, began work at Olympic this week. Most recently the maintenance chief at Capitol Reef National Park in Utah, Reed has also worked at Grand Teton National Park, Timpanogos Cave National Monument, Fort Laramie National Historic Site and the National Park Service Historic Preservation Training Center in Maryland.
The son of a U.S. State Department employee, Reed was raised overseas until he was 18. He is the dad of a daughter, 15, and son, 11, and enjoys weightlifting, travel, hiking and motorcycling riding. He is an enrolled member of the Rosebud Sioux Tribe.
Welcome, Reed and family!