Park Newsletter for August 3, 2007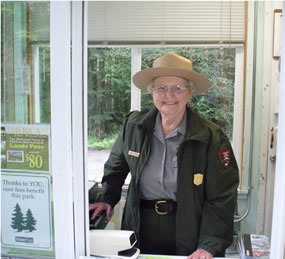 Cheryl Higbee, NPS
Betty Fleming Honored
With a ready smile and cheerful greeting, Betty Fleming welcomes hundreds of people each day to Olympic National Park. This year, she celebrates her twentieth summer as a visitor use assistant at the Heart O'the Hills entrance station.
Betty's known for her attention to detail and unfailing good spirits at Olympic's busiest entrance. She was recently honored with an On-the-Spot employee award.
Congratulations, Betty! And thank you for your 20 years of welcoming and helping park visitors.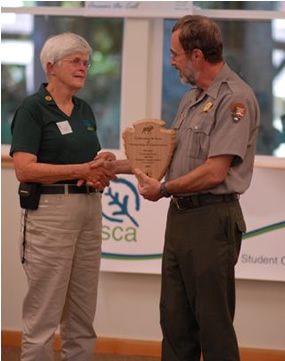 Student Conservation Association
Student Conservation Association Celebrates 50th Anniversary
About 50 people gathered on July 27 to celebrate the 50-year partnership between Olympic National Park and the Student Conservation Association (SCA).
The SCA was founded in 1957 by Liz Titus Putnam, who based her senior thesis at Vassar College on the idea of helping national parks by involving students in conservation work. Olympic National Park was one of two parks to host students that year and is the only park to have hosted SCAs every year of the organization's five-decade history.
This summer, Olympic is hosting a six-member high school trail maintenance crew, along with 13 college interns working in a variety of disciplines, including backcountry work, visitor service and volunteer group project coordination.
Members of the original 1957 all-male crew joined other SCA alumni and this year's crew members and interns (including both women and men!) in the celebration.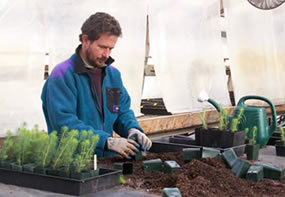 Passing of Matt Albright
Surrounded by his children, parents and friends, long-time park employee Matthew Albright passed away on Friday, July 20th in Seattle, two months after being diagnosed with germ cell cancer.
Matt loved the wilderness of Olympic National Park and was the park's nursery manager for the past 19 years, specializing in wilderness revegetation. A pioneer in northwest native plant propagation, Matt gathered seeds and plant cuttings from highly-impacted backcountry sites and brought them to the park greenhouse where they were used to propagate hundreds of thousands of young plants for restoration of the vulnerable areas where they originated.
Matt taught hundreds of employees and volunteers to propagate and care for native species, and to successfully transplant them in wilderness. His energy and presence will remain a part of the roots, stems and leaves of the plants now thriving at the park's revegetation sites and in the park greenhouse.
A native of North Carolina, Matt moved to the Pacific Northwest in 1980. He held Masters of Arts degrees in Islamic Studies and in Near Eastern Languages and Literature and was an amazing linguist, comfortable speaking and writing in several languages including Arabic and Portuguese.
The most important thing in Matt's life were his children, Abraham (29), Margaret (26), Joseph (24), Annie (22) and Elizabeth (20). He is also survived by his mother Patricia K. Nelson, step-father, Walter Nelson, and brother, Manny.
Matt was an avid runner and talented vegetarian cook and was known for always being there if needed with advice and understanding. Matt was a wonderful father and friend and a person who stood out in every encounter. He will be greatly missed.
Several hundred people attended a potluck and celebration of Matt's life, held on the shores of Lake Crescent on Sunday, July 29.
Cards and letters of condolence to Matt's family may be sent to: Pat and Walter Nelson at PO Box 65048, Port Ludlow, Washington, 98365.