Flooding is a relatively common occurance along the Elwha River. While the dams do not provide flood protection, they do hold back sediments. Once the dams are removed, sand, gravel and other sediments will again move downstream. As this occurs, sediments will accumulate along the river bed, raising its level and increasing slightly the risk of flood. In accordance with the Elwha Act, flood protection is being provided for downstream landowners.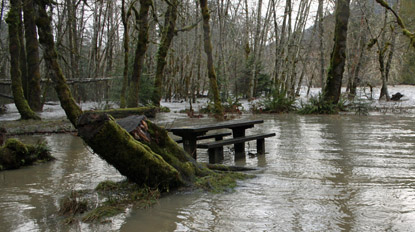 NPS
Flood Potential:
With the amount of snowmelt and precipitation that occurs each year within the Elwha watershed, flooding is quite common. The average annual discharge from the Elwha is approximately 1,500 cubic feet per second; floods of up to 5,000 cubic feet per second happen nearly every year. Both the Elwha dam and Glines Canyon dam are operated as "run of the river" facilities, discharging through the dams the same amount of water that passes into the reservoirs, so they have little effect on river flows. While a levee protects much of the Lower Elwha Klallam Tribe's reservation from up to a 200-year flood, other flood protection structures offer less protection.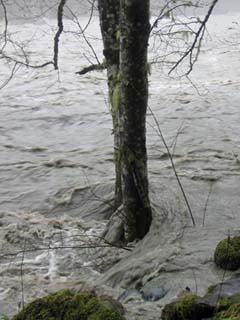 Reasons for Action:

Although the two dams were never operated for flood protection, the riverbed below the dams will rise as accumulated sediment is released from the reservoirs and the river's natural sediment transport regime is restored. The river has been mapped and areas at risk of aggradation following dam removal have been identified. Depending on location, the river bed may rise from as little as six inches in some areas to as much as 2.5 feet near the river mouth. Providing flood protection to the areas at risk ensures the safety of property and property holders on the lower Elwha River.
Proposed Action for Flood Protection:
To maintain the current levels of protection, existing flood protection measures, such as the federal levee on the reservation and the dike on the west side of the river mouth, will be modified. The federal levee will be raised an average of 3.3 feet and armored with riprap. It will also be extended 1,650 feet to the south to protect against potential reactivation of two relic channels and 450 feet to the north to protect the northern portion of the reservation. The privately owned levee has also been raised to maintain its current level of protection.
A series of other small-scale flood protection measures have been carried out in order to protect private homes. These include raising wellheads, dikes, roads, and property where necessary, based on discussions with each affected home owner. A more detailed description of these mitigations can be found in the Elwha River Ecosystem Restoration Implementation Final SEIS (PDF).
Elwha Construction Contracts

Info on upcoming Elwha Restoration construction contracts. Read More

Weather Forecasts

The latest local forecast and live webcam images from around the Olympic Peninsula Read More

Elwha Restoration

Learn about restoring the Elwha River's native fish and ecosystem. Read More