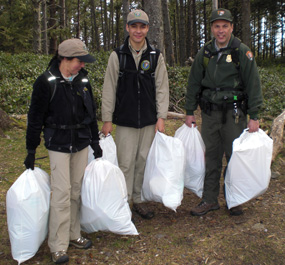 NPS Photo
Human Effects:
Humans influence their environment simply by being in a place. These are a few examples of how we influence Olympic National Park:
Highly visible impacts

Roads, trails, walking over plants, and leaving trash behind all influence the natural environment.

Influences on animal life

Feeding human food to animals can make them dependent and less able to forage on their own. Once accustomed to humans, larger animals like deer or bears can become dangerous in their search for food. Scaring wildlife with loud noises or altering their habitat can affect where and how they live.

Global impacts

Automobiles and industry putting tons of carbon dioxide into the atmosphere eventually causes worldwide temperatures to rise and glaciers to melt.

Impacts to Air Quality

More information on air quality impacts and monitoring in Olympic National Park.

Impacts to Water Quality

Chemical runoff, sedimentation, and accumulation of nitrogen in mountain lakes influence water quality in Olympic National Park. More information on NPS studies on water quality can be found here.


Ecosystem impacts

The introduction and spreading of Nonnative Species and Invasive Plants can have many negative effects on the natural environment.
To reduce your personal impacts see: