Elwha River Restoration Press Coverage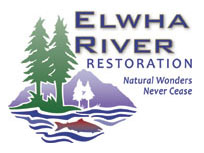 When the largest dam removal in United States history began in September 2011, it caught the attention of the local, national and international media. The print and broadcast media covering the story of the Elwha River Restoration have each brought a unique voice to the dynamic and complex story of this historic project. Below is a collection of publications and videos from media outlets covering the Elwha River Restoration.
Alaska Airlines
Returning Rivers to Nature, Aug. 2011
Forsberg, Leslie. Pages 90-104
Aljazeera
US dam removed to check salmon decline, Dec. 10, 2011
Audubon Magazine
America's Largest Dam Removal Underway in the Pacific, Jan/Feb 2012
Cosier, Susan
BBC News
Demolition dam: Why dismantle a huge river barrier? June 12, 2012
Altered States, Produced by Anna Bressanin
Bird Notes
Eagles on the Elwha River, October 2012
Wood, Francis
BoatU.S. Magazine
BoatU.S. Reports: Dam Deal Done, Fall/Winter 2011
Lydecker, Ryck
Daily Mail Reporter
Demolition begins on largest dam dismantling project in the U.S., Sept. 18, 2011
Daily Mail Reporter
High Country Magazine
Rebuilding a River as Washington's Elwha Dams Come down, Sept. 18, 2011
Todd, Kim
KUOW
earthFIX: Spring Brings New Life To Washington's Recovering Elwha River, June 5, 2012
Los Angeles Times
Northwest fish are back in the water, July 15, 2012
Murphy, Kim
Dam Removal begins, and soon the fish will flow, Sept. 17, 2011
Murphy, Kim
National Geographic News
Bulldozers Tear Into Big Washington Dams, Sept. 23, 2011
Howard, Brain Clark
Largest U.S. Dam Removal to Restore Salmon Runs, Aug. 31, 2011
Than, Ker
National Public Radio
Workers Start Dismantling Dams in Wash., Sept. 15, 2011
All Things Considered
New York Times
A River Newly Wild and Seriously Muddy, Aug. 2, 2012
Johnson, Kirk
Biological Boomerang, July 26, 2012
Egan, Timothy
Long-Awaited Freedom Comes to Olympic National Park's Elwha River, Sept. 15, 2011
Streater, Scott.
Removing Barriers to Salmon Migration, June 29, 2011
Yardley, William
New York Times; Green, A blog About Energy and the Environment
Farewell, Dams. Hello, Salmon?, Sept. 20, 2011
Farrell, Sean Patrick
NWIFC News
Northwest Indian Fisheries Commission
Freeing the Elwha: Celebrating Dam Removal, Fall 2011
Royal, Tiffany, Pages 2-4
Lower Elwha Kallam Readies for Dam Removal, Summer 2011
Royal, Tiffany, Page 9
Taking Stock of Elwha River, Fall 2010
Royal, Tiffany, Page 12
Peninsula Daily News
Ongoing local coverage.
Peninsula Daily News provides regular ongoing coverage of Elwha River Restoration and associated stories.
Celebrate Elwha! Special Tab, Sept. 9, 2011
Brewer, John C., Trisha McMahon, and Sue Stoneman, eds.
People's World
Hopes soar as Elwha dams come down and salmon return, Aug. 13, 2012
Wheeler, Tim
Restore
Hydropower Reform Coalition
This time, it's for real, May/June 2011
Seattle Met
The Elwha's Last Dam Summer, Aug. 2011
Barcott, Bruce
Seattle Times
Up close and personal: a frist look at Elwha Chinook, Sept. 20, 2012
Mapes, Lynda V.
Elwha tribe finds legendary creation site, wants uncovered land, Aug. 10, 2012
Mapes, Lynda V.
Dam gone, nature rebuilds Elwha River beach, Aug. 8, 2012
Mapes, Lynda V.
Elwha Dams: before and after, an aerial photo essay, July 16, 2012
Mapes, Lynda V.
Steelhead spawning in Elwha after removal of dam, July 7, 2012
Mapes, Lynda V.
Seeing is believing: Sediment is rebuilding the Elwha, June 21, 2012
Mapes, Lynda V.
Elwha sediment not just mud, it's nourishment, April 30, 2012
Mapes, Lynda V.
Special Report - Elwha, September 21, 2011
Mapes, Lynda V.
Smithsonian Magazine
On the Elwha, a New Life When the Dam Breaks, September 15, 2011
Tucker, Abigail
Preparing for a New River, December 2011
Tucker, Abigail
Washington Post
Elwha Dam removal illustrates growing movement, Sept. 16, 2011
Eilperin, Juliet
Follow the Dam Removal on Facebook!

'Like' us on Facebook to see and read more about the dam removal process. Read More