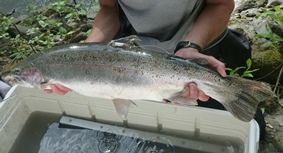 Attaching the Radio Tags
During the upstream migration of salmon, fisheries biologists make weekly visits to the Elwha River to capture and tag adult salmonids.
When a fish is captured, it is immediately transferred to a submerged cage made of mesh walls and a PVC frame. The fish is held in the cage for a short time before being outfitted with a radio tag.
A radio tag, smaller than the size of a AAA battery, is attached to the fish at the base of its dorsal fin. Each fish is also photographed, measured, and weighed, two to three scale samples are taken to determine the age of the fish, and a small sample of the anal fin is clipped for genetic analysis. This whole process is completed in less than ten minutes.