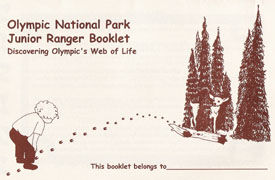 Olympic National Park Junior Ranger Program
Olympic National Park protects an amazing web of life, from tide pools to snowy peaks. To maintain this web of plant and animal communities, rangers study and protect parks, as well as help visitors understand and safely enjoy parks. You can help. When you visit our park complete the steps in the Junior Ranger Booklet to become an Olympic National Park Junior Ranger.
Pick-up your copy of the Olympic National Park Junior Ranger Booklet at any visitor center in the park.
Olympic National Park offers discovery backpacks to enhance you exploration of the park. For more information click here.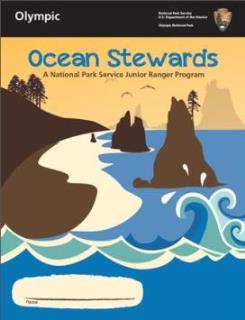 National Park Service
Become an Olympic National Park Ocean Steward
Olympic National Park Ocean Steward Junior Ranger program is a fun, hands-on program for children age 4 and up. As an Ocean Steward you will explore the coastal ecosystem of Olympic National Park, learn exciting new facts about this unique ecosystem and understand how you can help protect Olympic National Parks wilderness coast and ocean. Download and print the Ocean Steward Junior Ranger book at home and bring it with you to the park or pick-up your free copy at any visitor center when you arrive. Complete the book according to instructions to receive your Ocean Steward patch.
NPS PHOTO
Junior Ranger Day


Every year during National Park Week, Olympic National Park celebrates by hosting Junior Ranger Day. In 2015 Olympic National Park invites kids and their families to Find Your Park and celebrate Junior Ranger Day on Saturday, April 18, 2015 at the Olympic National Park Visitor Center in Port Angeles, WA.
Junior Ranger Day is an exciting, interactive program for children of all ages.
The Junior Ranger Day program is free of charge. Upon completion of the activities, participants are awarded a special Junior Ranger Day award.
Junior Ranger Day , April 28, 2007.
Welcome to the first Junior Ranger Day. click here
Steitler's Junior Ranger Experience. click here
Kate, maybe our youngest Junior Ranger ever. click here
Scott talks about his favorite park activity. click here
Eric describes his Junior Ranger development. click here
Travis gives his views on the Junior Ranger program. click here

JWoods

Become a WebRanger!

Link to an Olympic National Park WebRanger water exploration activity. Read More