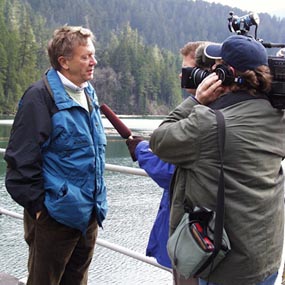 NPS
February 2000: Secretary of the Interior Bruce Babbitt attends signing ceremony at Glines Canyon Dam in recognition of the pending federal purchase of both projects. Secretary Babbitt and representatives of Fort James, Daishowa America, and the Lower Elwha Klallam Tribe sign a commemorative declaration acknowledging "the many entities and individuals" that are making Elwha restoration a reality. Federal acquisition of the projects was completed Feb. 29.
March 2000: Bureau of Reclamation commences federal operation of both hydroelectric projects.
February 2003: Mitigation facilities for the Elwha Place Homeowners Association completed. NPS and City of Port Angeles officials reach agreement on necessary mitigation in order to protect the City's municipal and industrial water supplies.
August 2004: NPS, Port Angeles, and Lower Elwha Klallam Tribe officials sign Memorandum of Understanding that identifies industrial, municipal and fish hatchery water quality mitigation measures and responsibilities of all parties.
January 2005: Supplemental Environmental Impact Statement (SEIS) is released to account for changes in Washington Department of Health water quality standards and the federal listing of Elwha River Chinook and bull trout.
April 2005: The Elwha Research Consortium is awarded $1 million in grants from the National Science Foundation. The consortium includes: Peninsula College, Western Washington University's Huxley College of the Environment, Lower Elwha Klallam Tribe, National Oceanic and Atmospheric Administration, Northwest Fisheries Science Center, Olympic National Park, the U.S. Geological Survey's Western Fisheries Research Center, and Olympic Park Institute.
May 2007: The National Park Service holds "industry roundtable" meetings in Port Angeles and Seattle, Wash. to inform potential contractors and subcontractors about two upcoming water treatment projects.
August 2007: NPS awards $24.5 million contract to Watts Constructors LLC and John Korsmo Company (Watts/Korsmo A JV), based in Gig Harbor, Wash., for construction of the Port Angeles Water Treatment Plant (PAWTP.)
December 2007: NPS awards $69.6 million contract to Watts Constructors LLC and DelHur Industries, Inc. for construction of Elwha Water Facilities, which includes a new surface water diversion and intake, industrial water treatment plant and area flood protection.