Freeing the Elwha: Science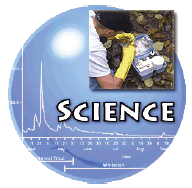 The science lessons in the Freeing the Elwha Curriculum are designed to connect students with an understanding of the natural forces that create a healthy river environment and thus healthy ocean and terrestrial environments. An essential question encompasses the entire curriculum and each lesson is led by a guiding question. Students are asked to respond to reflection questions both before and after each lesson to help organize their learning. Reflection journal questions can be complied in a notebook as notes towards the culminating research paper outlined in lesson 19. Lessons 1-19 move students from the effects of weather on water flow, through the habitat needs of salmon and the process of dam removal, to the state of the world's fisheries. Each lesson includes a PowerPoint presentation, vocabulary, and handouts. Many lessons contain simple hands-on experiments that can be easily conducted in the classroom. Math, language arts, and assessments are integrated as they fall naturally within lessons. Our goal is for each lesson to provide educators with everything they need to teach and enjoy this curriculum while students are enriched and challenged.

This webpage was made possible in part by a grant from Washington's National Park Fund.