Freeing the Elwha: Creative Response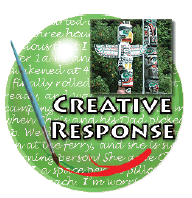 The creative response component of the Freeing the Elwha Curriculum gives students a chance to respond artistically through poetry and sculpture to the issues of river restoration and history. Inspired by Odyssey of the Mind, students are asked in these lessons to follow some simple guidelines in producing a product that they will publish and/or present. Students are asked to share their work with Olympic National Park with a possibility for publication on the web site. This is a standards-based opportunity to cut loose and have fun with words and found objects.

This webpage was made possible in part by a grant from Washington's National Park Fund.