Madison Falls Trail Closed for Repairs Beginning July 7

The one-tenth mile Madison Falls Trail and trailhead parking lot located in Elwha Valley will close to public entry beginning on Monday, July 7 while crews make improvements and repairs.
Hurricane Ridge Road Closed to Vehicles Sunday 8/3 (6:00a - noon)

Due to the "Ride the Hurricane" bicycle event, the road to Hurricane Ridge will be closed above the Heart o' the Hills entrance station from 6:00a to noon on Sunday August 3rd.
Spruce Railroad Trail Improvements to Begin August 5

Spruce Railroad Trail will be closed from the Lyre River TH to approximately 0.25 miles east of Devil's Punchbowl. Work is expected to be completed by the end of October. The remainder of the trail will be accessible from the Camp David Jr. Road TH. More »
Frequently Asked Questions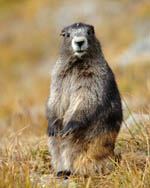 Ken and Mary Campbell
Do I need to make reservations to visit Olympic National Park?
No, you don't need reservations to visit Olympic National Park. However, if you plan to spend the night in or around the park, you should have reservations for lodging, camping, or backpacking.
How do I get to Olympic National Park?
You can find driving directions here.
What is there to see and do in Olympic National Park?
You can find a list of things to do in Olympic National Park here.
When is the best time of year to visit Olympic National Park?
It depends what you're looking for! While most people visit during summer, there are unique things things to see when visiting at other times throughout the year. You can find more information here.
Do you have a question that's not answered here? Send us an e-mail and we'll consider adding it to this list.


Did You Know?

That endemic Olympic snow moles are scurrying beneath this blanket of snow? Olympic National Park's Hurricane Ridge is blanketed with over ten feet of snow for most of the winter, providing water for summer and protection for snow moles in winter.