Roadway Ditch Maintenance Along Park Roads: Motorists May Encounter Delays

Motorists may encounter delays along Sol Duc Road (9/30 - 10/1), Whiskey Bend Road (10/2), Deer Park Road (10/7-10/8), and Hurricane Ridge Road (10/9 - 10/10) between Sept. 30 and Oct. 1 due to routine maintenance to clean roadway drainage ditches.
Spruce Railroad Trail Closed from Lyre River Trailhead to Devil's Punchbowl

The trail will be closed for improvements from the Lyre River TH to approximately 0.25 miles east of Devil's Punchbowl. Work is expected to be completed by the end of October. The remainder of the trail will be accessible from the Camp David Jr. Road TH. More »
Safety Advisory: Mountain Goats

NPS has received reports of aggressive mountain goats near trails at Hurricane Ridge, Royal Basin, Seven Lakes Basin, Lake of the Angeles, & Grand Pass. Visitors are required to maintain a distance of at least 50 yards from all wildlife. More »
Frequently Asked Questions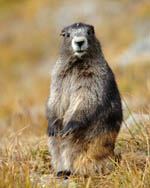 Ken and Mary Campbell
Do I need to make reservations to visit Olympic National Park?
No, you don't need reservations to visit Olympic National Park. However, if you plan to spend the night in or around the park, you should have reservations for lodging, camping, or backpacking.
How do I get to Olympic National Park?
You can find driving directions here.
What is there to see and do in Olympic National Park?
You can find a list of things to do in Olympic National Park here.
When is the best time of year to visit Olympic National Park?
It depends what you're looking for! While most people visit during summer, there are unique things things to see when visiting at other times throughout the year. You can find more information here.
Do you have a question that's not answered here? Send us an e-mail and we'll consider adding it to this list.


Did You Know?

Olympic National Park protects the largest unmanaged herd of Roosevelt elk in the world. Olympic was almost named "Elk National Park" and was established in part to protect these stately animals.