America the Beautiful Passes

America the Beautiful Annual, Senior, and Access Passes are no longer available at the Oklahoma City National Memorial NPS office or the Memorial Museum. For the Oklahoma City area contact instead The Bureau of Land Management at (405) 794-9624. More »
Plan Your Visit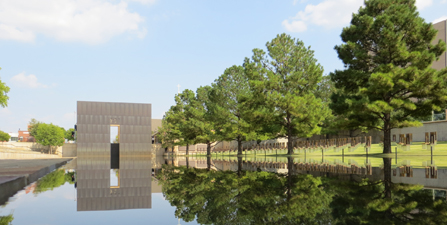 NPS Photo
Plan on spending at least one hour at the memorial exploring the Outdoor Symbolic Memorial. View the directions page for advice on getting to the memorial grounds and for places to park. Consider attending a ranger-led program to learn more about this special place.
If time permits, visit the Oklahoma City National Memorial Museum. On average, a visitor will spend 1-2 hours in the museum. Please note, ticket sales end one hour before closing. The lights on the chairs, gates and pathways illuminate at dusk; the memorial grounds are open 24 hours a day.

National Park Service passport stamps are available during museum gift shop hours, Monday - Saturday 9:00 a.m. - to 6:00 p.m. and Sunday 12:00 p.m. - 6:00 p.m.
NOAA Weather

Find up to date information on current weather conditions Read More

Pets on the Site

Pets are not allowed on the Outdoor Symbolic Memorial or in the Memorial Museum unless designated for physical services.

Accessibility Information

Information on accessible services and facilities Read More
Did You Know?

Tiles in the children's area of the Oklahoma City National Memorial represent the thousands of cards, letters, and drawings sent to Oklahoma City from children all over the United States. More...