The Obed Wild and Scenic River is free for visitors. However, those wishing to camp at the
Rock Creek Campground
are required to pay a $7 overnight camping fee with the envelopes provided next to the campsite bulletin board. The campsite is run on a first-come, first-served basis, with 11 spaces available. There are no payphones and no electric hookups available at the campground. Port-a-potty toilets are located at the campground.
The National Park Service has designated the following fee-free days for 2015:
· Martin Luther King Jr Day - January 19
· President's Day Weekend – February 14-16
· Opening Weekend of National Park Week - April 18-19
· National Park Service Birthday – August 25
· National Public Lands Day - September 26
· Veteran's Day - November 11
Obed Wild and Scenic River will waive the $7 camping fee during the fee-free periods. More information about fee free days in the National Parks can be found at http://www.nps.gov/findapark/feefreeparks.htm.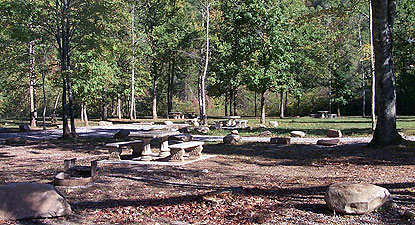 National Park Passes

The Obed Wild and Scenic River accepts several National Park Service Passes.

The Point Trail

Hiking along the Point Trail includes crossing a footbridge over Melton Mill Creek. Read More