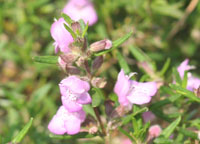 Floristically speaking, some areas of the park are particularly diverse, and visitors may unwittingly be walking within reach of a number of rare and unique plants. Two species worth highlighting are Cumberland rosemary (Conradina verticillata) and Virginia spiraea (Spiraea virginiana), which are both listed as federally threatened under the Endangered Species Act of 1973. In addition, the State of Tennessee lists Cumberland rosemary as threatened and Virginia spiraea as endangered.
Cumberland rosemary, a riverine plant, is a small herbaceous plant in the mint family. Virginia spiraea is a perennial shrub. Surprisingly, these plants thrive in the park under relatively inhospitable conditions. Although not truly aquatic, both grow in areas where they can benefit from the scouring effect of winter's high flows, a force that limits the growth of other plants, and acts to eliminates woody competition.
Eye-catching spring wildflowers like the pink lady's-slipper (Cypripedium acaule) add color to a green woodland walk, and clusters of these orchids may be found growing under forest gaps, spotlighted by late afternoon sun. A host of other wildflowers dot the forest landscape. Because many of the park's rare plants are in need of protection, it is important for visitors to stay on established trails or boardwalks to prevent impacts to the park's most sensitive species.