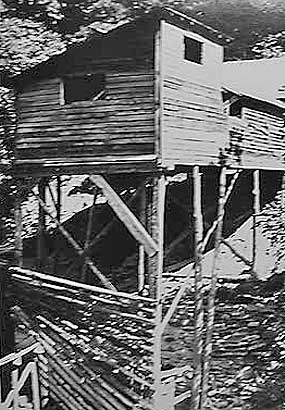 Noah Howard
The Lilly Bridge Grist Mill
In the 1930s a fellow by the name of Woodson Hawn built a corn gristmill on the northern bank of Clear Creek near the present Lilly Bridge. This gristmill used a horizontal tub wheel to capture the force of the rushing water to turn the millstone gears. The millstones scraped upon each other and produced cornmeal and flour, dietary staples of early Americans in the region.
The mill was later operated by Alva and Elvie Howard for approximately ten years. The Howards relied on the barter system of payment, grounding cornmeal for customers and keeping a portion for themselves. Decendents of the Howard family still reside in the surrounding counties of the Obed.
Because of its proximity to the old Lilly Bridge, the structure was given the name "Lilly Gristmill." Unfortunately, a flood in the late 1940s destroyed the wooden building and its vertical braces. Many historic villages throughout America today contain reproduction or restored gristmills, and many of those still produce cornmeal for visitors to enjoy. The Obed Wild and Scenic River today offers no such place...only memories of what once was.