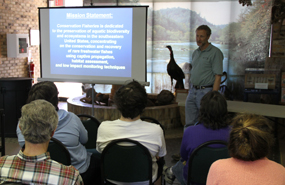 Joe Zagorski
Do you need a break from teaching for a few moments? Do you ever wish you could have a guest speaker visit your classroom without going through a pile of paperwork and administrative fumbling? Look no further! The Obed Wild and Scenic River can give you that guest speaker that you yearn for. Our park rangers are knowledgeable on subjects such as the river, its inhabitants, the history of the region, and the National Park Service in general. We can also put together a slide program geared to your curriculum. We have worked with teachers in a variety of activities which preserve our natural resource, and which educate our youth. Some of our past guest speakers have presented programs on:
* Wildlife Fisheries
* Wildflowers
* 18th Century Longhunters
* The Civil War in the Appalachian Region
* The Cumberland Trail
Please contact us at 423-346-6294 to schedule a day and a time when one of our park rangers can speak to your class.