The Park's Coral Reef Staff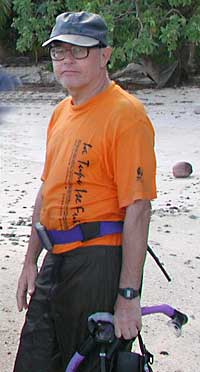 Dr. Peter Craig heads the Resource Management Division of the Park and leads studies of the marine and coral reef environments of the park waters. He has long experience in marine studies in both Samoa and Alaska. He has been an ecologist at the American Samoa National Park since 1988. Peter has a PhD from the University of California at Santa Barbara. His extensive publications and reports are included in the Coral Reef Studies and Products page.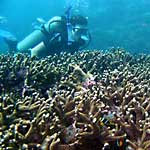 Paul Brown is a marine ecologist and the newest member of the NPSA staff. He has worked on marine ecology projects at home in the U.S. at the Flower Garden Banks and Florida Keys National Marine Sanctuaries as well as around the world in Belize, Bonaire and Canada. When he is not diving for work, he is diving for fun as both an active SCUBA instructor as well as an avid technical diver. When he isn't underwater he can be found hiking and backpacking with his wife and daughter, often picking up rocks and seashells to add to his collections along the way. He has, until recently, been a passionate horticulturalist of epiphytic cacti, even having propogated several of his own varieties by selective breeding. His research interests include fish behavior, aggression, reproductive ecology, and deepwater exploration. Paul has B.S. degrees in Art & Design and Neuroscience and a M.S. in Marine Biology from Northern Michigan University, and a PhD in Marine Ecology from the University of Queensland (pending).