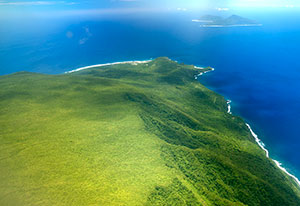 NPS
Then, Tagaloa decided that men should be appointed to rule the different islands and so he created the title of Tui [king]. He created the titles Tuiaga'e, Tuita'u, Tuiofu, Tuiolosega, Tuiatua, Tuia'ana, Tuitoga, and Tuifiti, and thus established lords of the islands.
Then, Tagaloa looked upon all he had created and decided that there should be a king greater than all the others and that he should reside in Manu'atele, his first creation. He selected the son of Po [night] and Ao [day] to be the king of kings. When this boy was to be born it was found that his abdomen was firmly attached to his mother's womb. Because of this, he was given the name Satia i Ie Moaatoa [attached by the abdomen], and the whole island group that would be his domain received the name Samoa [sacred abdomen]. When the child was born, he sustained a great wound as he was ripped from his mother's body. From this came the name of the place of his birth, Manu'atele [the great wound]. When this boy grew to manhood, he became king of all the Tui [kings] and carried the title Tuimanu'a Moaatoa.
This "creation story" was first recorded by the anthropologists, Lyell and Ellen Holmes, and is taken from their study, Samoan Village, Then and Now.