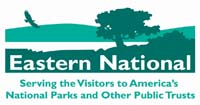 Eastern National is a 501(c)3 non-profit cooperating association, operating in more than 150 national parks and other public trusts.
We are dedicated to the preservation and use of the parks for the benefit of all Americans, visitors from all nations and future generations. Eastern National currently operates educational retail outlets at Castle Clinton, Federal Hall, Grant's Tomb, Governors Island, Theodore Roosevelt Birthplace.
All of the products, programs and publications offered to visitors have a strong educational value. The profits from our activities are donated to the National Park Service and our other partners to further support their educational and interpretive programs.
In addition, Eastern National is working with the National Parks of New York Harbor on special museum stores at Ellis Island. Eventually, there will be additional museum stores at Statue of Liberty and African Burial Ground.