Cascade River Road will be open as normal through fall/winter 2014

Cascade River Rd. will be open in 2014 until snow conditions make it impassable to vehicles, as normal. The road closure that was planned to begin September 8 has been postponed beyond 2014 due to unforeseen circumstances. More »
Lone Mountain Fire - National Park Service Trail Closures

The Lone Mountain Fire in North Cascades National Park is approximately 5 mi NW of Stehekin in the Boulder Creek drainage. Boulder Creek Trail is closed. More »
Re-opening of Adjacent U.S. Forest Service Road and Trails that Access North Cascades NP Complex

The area closure of the Twisp River Road and the Lake Chelan-Sawtooth Wilderness in the Okanogan-Wenatchee National Forest due to wildfires has been lifted as of August 19, 2014. More »
Public Transportation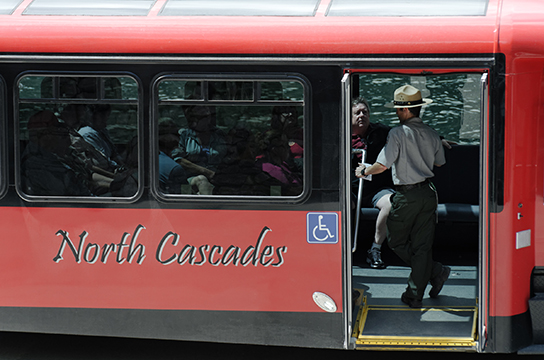 NPS/John Chao
Very little of the park is directly accessible by public transportation but many gateway communities are served by national, regional, and local transit systems.
PLANE
TRAIN
Amtrak
VIA
The Canadian arrives three times per week from Toronto and the Canadian Rockies in Hope, Chilliwack, Abbotsford, and Vancouver, BC. Rental car services are available in Chilliwack, Abbotsford, and Vancouver, BC.

BUS
National
Greyhound serves communities along Interstate 5/Highway 99, including Mount Vernon and Bellingham, and US Highway 2, including Leavenworth and Wenatchee.

West
East
LAKE CHELAN FERRY
The Lady of the Lake provides round-trip service between Chelan and Stehekin with scheduled stops at Field's Point and Lucerne. Daily service is available from mid-Spring through early fall with reduced service during the winter months.
Contact the park at (360) 854-7200 or E-mail us for more information.


Did You Know?
Anyone can become a North Cascades Junior Ranger! Pick up one of the four FREE activity booklets at any of the visitor or information centers. Complete the activities and earn your official junior ranger badge! Download the booklet here. More...