State Route 20 closed at Mile Post 134, Ross Dam

After a brief closure at Newhalem due to an avalanche and unstable conditions, SR 20 has re-opened to its normal winter closure point at MP 134, Ross Dam. The highway will remain closed from Ross Dam to MP 171 (Silver Star Creek) until spring re-opening. More »
Ross Dam Haul Road Closure Continues

A short segment of the Ross Dam Haul Road between the Diablo Lake suspension bridge and the tunnel remains closed to public use due to continued recovery following a March 2010 landslide. The closure will remain in effect through 2014. More »
Notice of planned work for the Cascade River Road, fall 2014

Visitors planning to access the park via the Cascade River Road after Labor Day should be advised that the Park Service is planning a fall closure of this road at Eldorado Creek (3 miles before the end of the road) in order to perform permanent repairs. More »
Public Transportation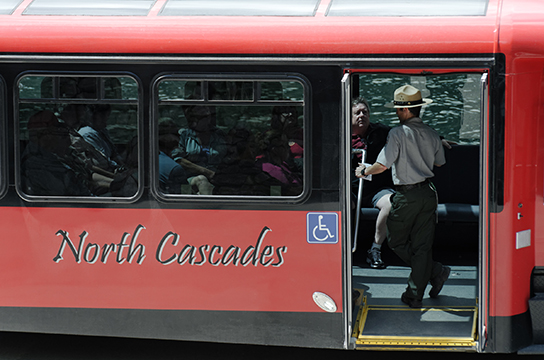 NPS/John Chao
Very little of the park is directly accessible by public transportation but many gateway communities are served by national, regional, and local transit systems.
PLANE
TRAIN
Amtrak
VIA
The Canadian arrives three times per week from Toronto and the Canadian Rockies in Hope, Chilliwack, Abbotsford, and Vancouver, BC. Rental car services are available in Chilliwack, Abbotsford, and Vancouver, BC.

BUS
National
Greyhound serves communities along Interstate 5/Highway 99, including Mount Vernon and Bellingham, and US Highway 2, including Leavenworth and Wenatchee.

West
East
LAKE CHELAN FERRY
The Lady of the Lake provides round-trip service between Chelan and Stehekin with scheduled stops at Field's Point and Lucerne. Daily service is available from mid-Spring through early fall with reduced service during the winter months.
Contact the park at (360) 854-7200 or E-mail us for more information.


Did You Know?

North Cascades NPSC has over 300 glaciers, more than any other park in the lower 48 states. More than half the glaciers in the 48 states are concentrated in this mountainous wilderness region called the North Cascades.