Climbing Conditions - Colonial, Pyramid, Snowfield Area
Current conditions for peaks in the immediate area of Pyramid, Colonial, and Snowfield can be found below. For conditions on other climbs, return to Planning a Climb.
Condition reports come from climbing and wilderness rangers, the voluntary climbing register, and other climbers. To make a climbing report, please the Wilderness Information Center in Marblemount. Please include the route, snow level, any hazards encountered (or not), peak(s) attempted, and whether your party successfully summitted.
All of the climbing routes in the park complex are located in wilderness, but some are wilder than others, and there may be limited or outdated information. Use these reports as a baseline, but plan for changing conditions and a true adventure. On many routes, the discovery, physical stress, and route-finding challenges are half the fun.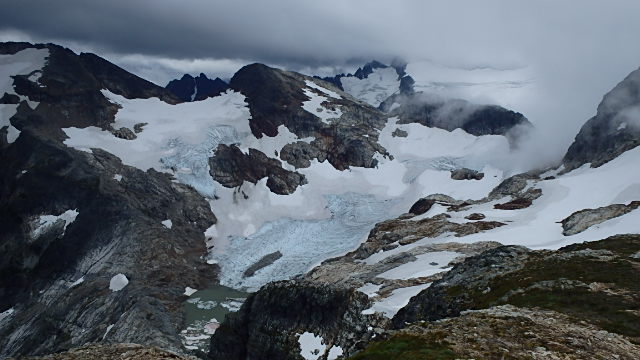 NPS/Christina Thompson
Colonial - Pyramid - Snowfield Area
Peak/Route
Conditions
Date
Author
Approach / Pyramid Peak
Pyramid Lake Trail

Trail in good shape. Only one small tree down.

Approach to Colonial / Snowfield Cross Country Zones

Climbers' path from Pyramid Lake to base of Colonial Glacier is in "standard" shape. The approach is fully snow free until the glacier itself. The lake at the base of the Colonial Glacier is mostly melted out. There are a couple of two person tent size bivy sites on the West side of the lake. Lots of good water flowing near the lake. The lower Colonial Glacier is fully melted out – crampons a must for ice (dry glacier). Getting to the standard col between the Colonial Glacier and the Neve Glacier on Snowfield has no crevasse issues on the Colonial Glacier portion. There are a few good two person bivy sites at this col. The Neve appears broken up from a distance. The traverse from the Colonial Glacier to Pyramid Peak is nearly 100% snow – snow free on the last few hundred meters to summit.

8/29/13
Climbing Ranger
All
Approach route from Pyramid Lake is snow free until about 5,500ft. The traverse from the approach ridge into Colonial Glacier basin is still mostly snow covered- use caution here as there are long runouts. Bivi sites near lake are still under snow. Some bivi sites on slabby bench melted out, but keep in mind these sites can be windy in the afternoon. Several bivi sites melted out at the col leading to Neve Glacier, with running water available. Neve Glacier is straight forward at this time, with a few small crevasses to step over, but crevasses will be opening up rapidly with warm weather. Snowfield scramble route completely melted out. Mostly solid snow approaches to all other peaks in the area. This area is becoming more popular- be sure to Leave No Trace, pack out blue bags, and store your food properly (bear canister, buried in snow, or hung on rocks) to avoid future problems.
07/06/13
Ranger
Email an updated report for any routes or peaks in this area.