Diablo Lake To Be Drawn Down Three Feet in Early Oct., Trailer-Launched Boats Affected

Diablo Lake will be drawn down 3 vertical feet for facility repairs from October 1-15. During the drawdown, boats with trailers will not be able to launch or take boats off the water. Hand-launched vessels will still be able to launch. More »
Cascade River Road will be open as normal through fall/winter 2014

Cascade River Rd. will be open in 2014 until snow conditions make it impassable to vehicles, as normal. The road closure that was planned to begin September 8 has been postponed beyond 2014 due to unforeseen circumstances. More »
Lone Mountain Fire - National Park Service Trail Closures

The Lone Mountain Fire in North Cascades National Park is approximately 5 mi NW of Stehekin in the Boulder Creek drainage. Boulder Creek Trail is closed. More »
Climbing Conditions - Cascade Pass Area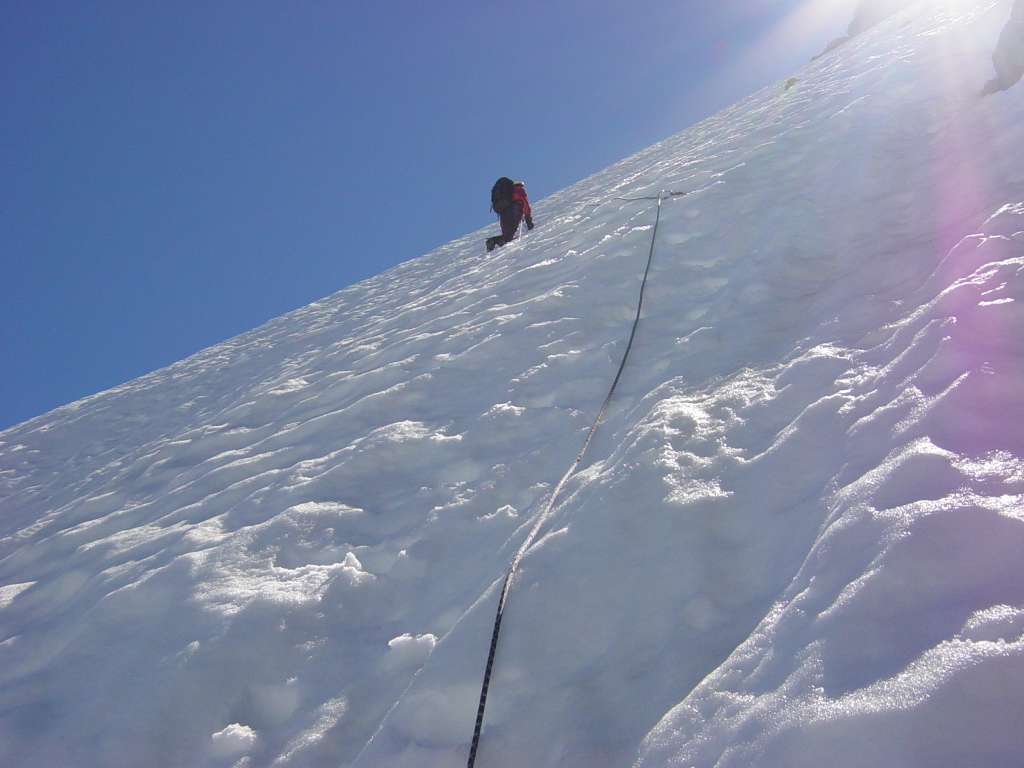 Erik Siehl
Climbing conditions for peaks in the greater Cascade Pass area, including Sahale via Sahale Arm, Buckner, Johannesburg, and the Ptarmigan Traverse can be found below. For conditions on other climbs, return to Planning a Climb.
Condition reports come from climbing and wilderness rangers, the voluntary climbing register, and other climbers. To make a climbing report, please email the Wilderness Information Center in Marblemount. Please include the route, snow level, any hazards encountered (or not), peak(s) attempted, and whether your party successfully summitted.
All of the climbing routes in the park complex are located in wilderness, but some are wilder than others, and there may be limited or outdated information. Use these reports as a baseline, but plan for changing conditions and a true adventure. On many routes, the discovery, physical stress, and route-finding challenges are half the fun.

Cascade Pass Area Routes: Buckner, Sahale via Sahale Glacier, Johannesburg, Ptarmigan Traverse, etc.
Peak/Route
Conditions
Date
Author
All
In recent years many bears are observed around Sahale Glacier Camp (7600'). Bears have also been observed on glaciers in the past. Proper food storage is required for all visitors in the backcountry, including climbers. Leaving food in a tent is not proper food storage. Rangers will be checking and enforcing this regulation in Boston Basin and all other areas of the Park. Ask rangers for advice regarding food storage when acquiring a permit for your climb.
04/17/12
Ranger
All
Full winter conditions. Be very aware of avalanche conditions. All climbers should bring blue bags for all trips in the alpine and be prepared to use them. Leave the alpine clean for your next climb and for your fellow climbers.

Due to road conditions, approach distances to climbing areas in early season are greater than during summer season. For conditions of Cascade River Road, see here.
04/17/12
Ranger
E-mail
an updated report for any routes or peaks in this area: Buckner, Sahale via Sahale Glacier, Johannesburg, Ptarmigan Traverse, etc.
Did You Know?
Grizzly bear tracks can be a reliable indicator of species? Grizzly bear and black bear forepaw tracks are distinct from one another and often times better than a photo of the bear to confirm an observation. So don't just look up, look down.