Climb Safely
Search and Rescue
North Cascades National Park and the local County Sheriffs Office are responsible for rescues in the North Cascades National Park Complex. Volunteer Mountain Rescue units also work with the agencies.
If a member of your party is injured, good information from the reporting party is critical in evaluating the situation. Be prepared to tell rescuers:
Location of the injured party
Extent of injuries (as much information as possible)
When the accident occurred
How the party was injured
Terrain at the site where the injured party is currently located
Cell phones
If you are calling from a cell phone, first state your name, phone number, location and if you are requesting an emergency response. State this information first, so that if the connection is lost park dispatchers can call you back. Only a few years ago, the benefits and drawbacks of taking a cell phone into Wilderness were hotly debated. Current thought is this: While cell service is far from completely reliable in such remote and rugged terrain, cell reception is possible in many locations, particularly from higher elevations. Thus, a cell phone call may be the best and quickest method of activating a response in an emergency in the mountains. Never forget, however, that many locations do not get cell service, and you may still need to get yourself to a location with reception. Never rely on a cell phone as your sole emergency evacuation plan.
Emergency Numbers
North Cascades National Park dispatch 360-854-7249
Recommended first contact for emergencies within the park complex May – October, daily 7:30 am – 11 pm
Skagit County Sheriff's Office dispatch 360-336-9450
Whatcom County Sheriff's Office dispatch 360-384-5390
You can also call 911 and the appropriate agency will be contacted. Calling 911 will always trigger a response, but cell calls from wilderness areas often reach dispatch centers far from your location, and hours may pass before the logical responding agency receives the information.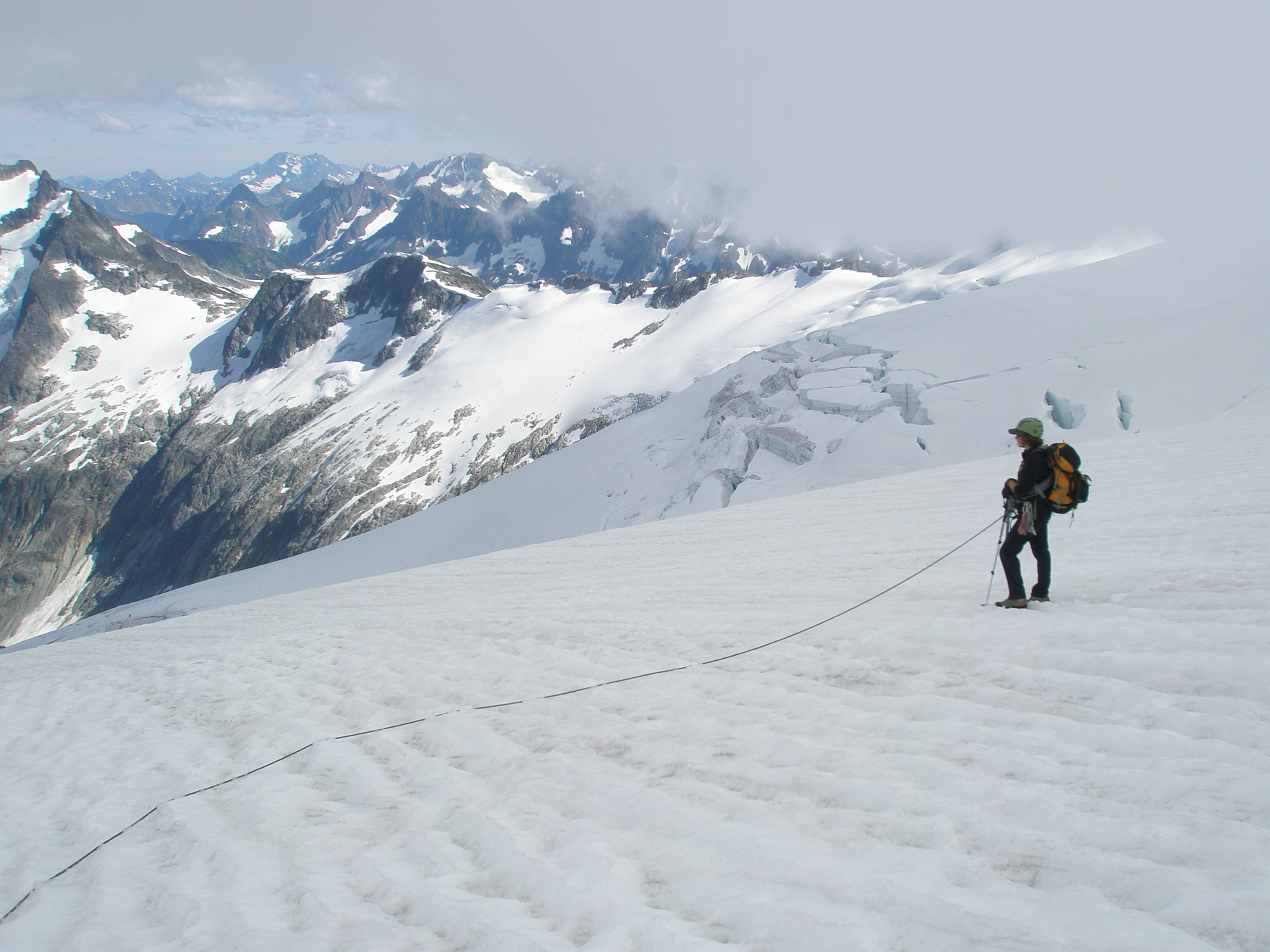 NPS/Rosemary Seifried
Weather
Weather can be volatile in the North Cascades, and experience has shown that even forecasters can frequently be wrong. The extreme elevational gradients and the lay of mountain ranges can cause unforeseen micro-weather patterns, for better or for worse. Nevertheless, checking the "expert guess" official forecast is always wise, and weather patterns can be stable for weeks, especially in summer months, allowing for a safe and visually stunning climb. But it is wiser still to plan for weather extremes, and always keep an eye on the sky for systems moving in quickly.
Voluntary Climbing Register
The Voluntary Climbing Register is one component of the park's climbing safety program. This register gives climbers the option of providing rangers detailed information about their trip plan, climbing route(s), and emergency equipment and contacts. Although use of the register does not guarantee an emergency response, the information has proven to be very useful to responders in the event that a search is initiated.
Climbers are encouraged to use the Voluntary Climbing Register for your safety. If you choose to participate, please help the program be successful by providing complete and accurate information. Failure to do so can result in delays that could be critical in the event of a search. If you sign in on the climbing register, you are also committing to signing out at the completion of your climb, to avoid an unnecessary search effort. Climbing registers are available at the Wilderness Information Center in Marblemount, the Park and Forest Information Center in Sedro Woolley, and the Glacier Public Service Center in Glacier. Registers are available 24 hours a day during open seasons. You can also download a copy here (pdf 331 kb) so that you can pre-fill the form and leave it at a ranger station en route to a climb or while obtaining your backcountry permit.
National Weather Service West Slopes

Current West Slope conditions and forecast for the Northern Cascades. Read More