Lone Mountain Fire - Trail Closures

The Lone Mountain Fire in North Cascades National Park is approximately 5 mi NW of Stehekin in the Boulder Creek drainage. Boulder Creek and War Creek Trails are closed. Rainbow Loop Trail is in-use as a staging area and closed to public use. More »
USFS closes Easy Pass Trail from State Route 20

Due to fire activity near the trail, the US Forest Service has closed the Easy Pass trail and trailhead on State Route 20. This area has been receiving precipitation. The highway remains open.
Accessibility at Shadows of the Sentinal Trail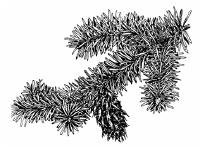 A fully accessible .5 mile (.8 kilometer) boardwalked and paved trail travels into the heart of an old growth forest. Scents and sounds of the forest permeate the air, and in some places the trail brings the visitor close enough to touch the bark and needles of the ancient conifers. Accessible parking, toilet, curb ramp, benches, and interpretive signs available. A
Northwest Forest Pass
is required at this trailhead.
Did You Know?

In addition to Wilderness, Recreation Areas and National Park designations there are also five Research Natural Areas in the complex: Silver Lake, Pyramid Lake, Boston Glacier, Stetattle Creek and Big Beaver Valley.