Cascade River Road will be open as normal through fall/winter 2014

Cascade River Rd. will be open in 2014 until snow conditions make it impassable to vehicles, as normal. The road closure that was planned to begin September 8 has been postponed beyond 2014 due to unforeseen circumstances. More »
Lone Mountain Fire - National Park Service Trail Closures

The Lone Mountain Fire in North Cascades National Park is approximately 5 mi NW of Stehekin in the Boulder Creek drainage. Boulder Creek Trail is closed. More »
Re-opening of Adjacent U.S. Forest Service Road and Trails that Access North Cascades NP Complex

The area closure of the Twisp River Road and the Lake Chelan-Sawtooth Wilderness in the Okanogan-Wenatchee National Forest due to wildfires has been lifted as of August 19, 2014. More »
Accessibility at the Wilderness Information Center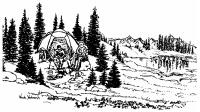 Located 1 mile (1.6 kilometers) north of SR 20 (Milepost 105.3) on Ranger Station Road. This center offers multi-media exhibits on backcountry trip planning and safety, a 3-dimensional relief map and other touchable objects, and a Northwest Interpretive Association bookstore. Backcountry permits for North Cascades National Park Service Complex are issued at this center. Accessible parking and restrooms are available. Contact the
Wilderness Information Center
for further assistance with backcountry travel planning.
Backcountry Travel & Overnight Trips


Almost 93% of North Cascades National Park Service Complex is designated as the Stephen Mather Wilderness and the rugged terrain has limited access. Topography prohibits accessible development of the 360 miles of backcountry trails and 136 designated backcountry campsites. However, some campsites and areas may be accessible with help.
Did You Know?

The North Cascades are well known for the abundant waterfalls that lace the mountains. Two of the best known waterfalls are Gorge Falls between Newhalem and Diablo along State Route 20 and Rainbow Falls in the Stehekin Valley.