State Route 20 closed at Mile Post 134, Ross Dam

After a brief closure at Newhalem due to an avalanche and unstable conditions, SR 20 has re-opened to its normal winter closure point at MP 134, Ross Dam. The highway will remain closed from Ross Dam to MP 171 (Silver Star Creek) until spring re-opening. More »
Ross Dam Haul Road Closure Continues

A short segment of the Ross Dam Haul Road between the Diablo Lake suspension bridge and the tunnel remains closed to public use due to continued recovery following a March 2010 landslide. The closure will remain in effect through 2014. More »
Notice of planned work for the Cascade River Road, fall 2014

Visitors planning to access the park via the Cascade River Road after Labor Day should be advised that the Park Service is planning a fall closure of this road at Eldorado Creek (3 miles before the end of the road) in order to perform permanent repairs. More »
Accessibility at the Wilderness Information Center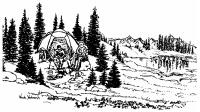 Located 1 mile (1.6 kilometers) north of SR 20 (Milepost 105.3) on Ranger Station Road. This center offers multi-media exhibits on backcountry trip planning and safety, a 3-dimensional relief map and other touchable objects, and a Northwest Interpretive Association bookstore. Backcountry permits for North Cascades National Park Service Complex are issued at this center. Accessible parking and restrooms are available. Contact the
Wilderness Information Center
for further assistance with backcountry travel planning.
Backcountry Travel & Overnight Trips


Almost 93% of North Cascades National Park Service Complex is designated as the Stephen Mather Wilderness and the rugged terrain has limited access. Topography prohibits accessible development of the 360 miles of backcountry trails and 136 designated backcountry campsites. However, some campsites and areas may be accessible with help.
Did You Know?
Anyone can become a North Cascades Junior Ranger! Pick up one of the four FREE activity booklets at any of the visitor or information centers. Complete the activities and earn your official junior ranger badge! Download the booklet here. More...